Chicken and Andouille Sausage Gumbo
Posted on 22 June 2010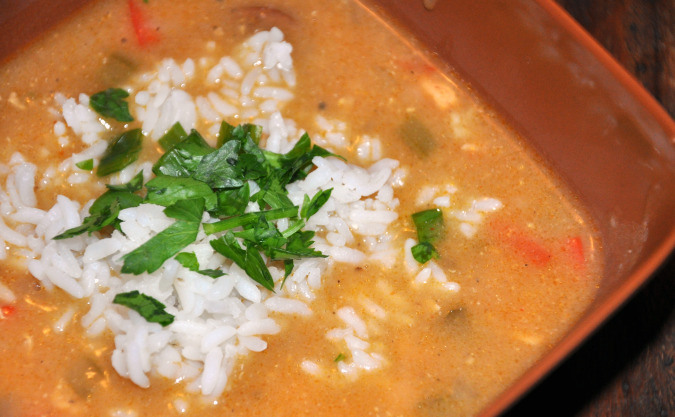 New Orleans is — hands down — my favorite city to visit. What's not to love? There's the history, the architecture, the music, and, most importantly, the food.
Come on, when you put that many cultures together in one place (Native American! French! Spanish! African! American!), something wonderfully mouth-watering has to emerge.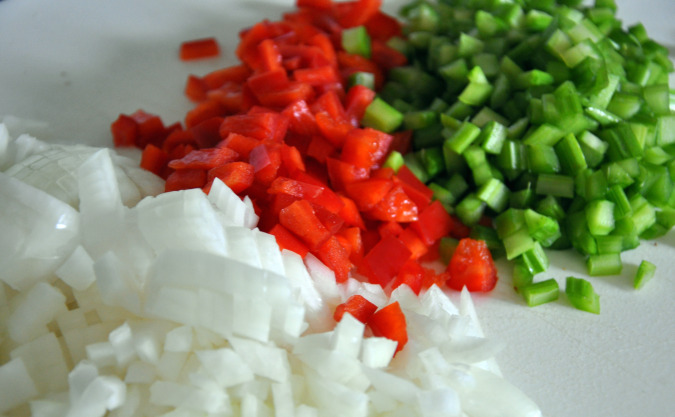 My friend Scott is from New Orleans and knows of my quest to make the perfect gumbo. He invited us over for his tantalizing, fall-off-the-bone-tender ribs (but that's a story for another day) on the condition I make him my gumbo.
What? No. I had made gumbo only once before and it was middling. How could I bring gumbo to his house — especially after he talked it up to his friends — and produce the vaguely watery (but still tasty) mess that was my first attempt?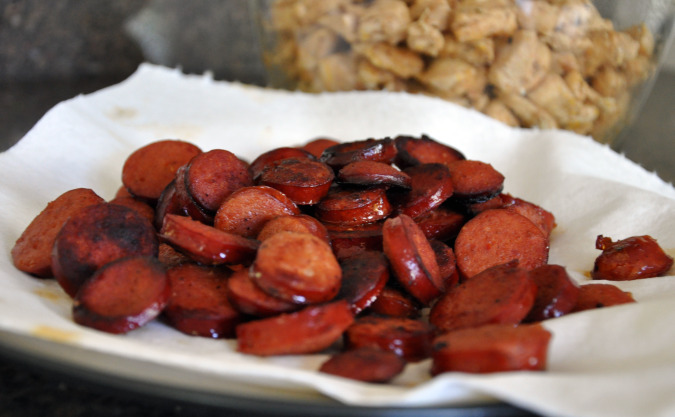 I decided to take a chance on Emeril.
Except that once I read through his recipe, I knew that I would have to make some revisions. Like I couldn't use chicken thighs because I don't like dark meat. I'm not patient enough to cook chicken in batches. I couldn't put the parsley and the green onions in the gumbo because…well, because it didn't feel authentic (and I don't like parsley). And I certainly wouldn't use anything besides plain white rice because that's the way it's always been served to me in New Orleans.
And then, after all that (and 5 hours of cooking time), it was fantastic! Was it, as I had been told, all about the roux? Was it because I made it the day before and let the flavors develop overnight? I'm still flabbergasted.
And pleased as punch.
Lessons learned about roux:
It's not that hard.
Don't keep the flame so low that it takes over an hour for the roux to turn dark brown.
Also, when they say stir constantly, they mean stir constantly. My arm was tired after waiting around for 45 minutes of intermittent stirring. Stirring regularly, Matt got it to the right color after 30.
There are no black specks. It's just your imagination. Your roux is not ruined.
Don't taste the roux out of curiosity. I assure you that it tastes like what it is: butter and flour. And that's not good.
Chicken and Andouille Sausage Gumbo
Ingredients
1 tablespoon plus 1/2 cup vegetable oil
16 ounces andouille sausage, sliced in 1/4-1/2 rounds
4 pounds boneless, skinless chicken breasts, cut into bite-sized pieces
1 1/2 tablespoons Creole seasoning
1 cup all-purpose flour
2 1/2 cups diced onions
1 cup diced celery
1 cup diced red bell pepper
1/2 teaspoon cayenne pepper
3 bay leaves
9 cups canned low-sodium chicken broth
White rice for serving
Chopped parsley (optional)
Diced green onions (optional)
1 tablespoon file powder (optional)
Hot sauce (optional)
Instructions
In a large pot, heat 1 tablespoon vegetable oil over medium-high heat. Add the sausage and cook until well-browned, about 8 minutes. Remove sausage and set aside.
Season chicken with seasoning and add into pot. Cook until well-browned, about 6 minutes. Remove with slotted spoon and set aside. If there is liquid remaining in the pot, pour into measuring cup. It can be used toward the 9 cups of broth.
Reduce heat to medium. Add flour and remaining oil to pot. Stir slowly and regularly until reddish brown, the color of milk chocolate, about 25 to 30 minutes.
Add onions, celery, and peppers to pot. Cook until wilted, about 5 minutes. Add reserved sausage, cayenne, and bay leaves and cook for two minutes. Stir in chicken broth until well-combined. Bring to a boil. Reduce heat and stir occasionally for 1 hour.
Add the chicken (plus any accumulated juices) back to the pot and continue to simmer about 1 1/2 hours more, stirring occasionally.
Remove and discard bay leaves. Salt to taste. Cover and refrigerate overnight.
Skim off fat solids off of top. Reheat by bringing to a boil. Reduce heat to low. Serve with white rice and top with parsley, green onions, file powder, and hot sauce to taste.
http://www.allfourburners.com/2010/06/22/chicken-and-andouille-sausage-gumbo/
Copyright © All Four Burners. All Rights Reserved.
Adapted from Emeril Lagasse
About AFB

Follow AFB

Find Recipes

Recent Posts

Archives

Bloggy Inspiration

Local Yokels