Spaghetti with White Beans, Spinach, and Bacon
Posted on 19 August 2010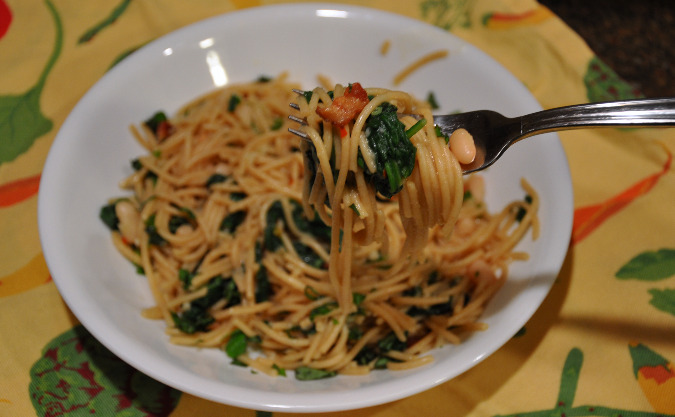 I am tired. Bone tired.
Ok, maybe not bone tired. But certainly brain tired.
The depth of my exhaustion was not conducive to being creative or to even going to the farmers market.
Instead, I turned to comfort food. The type of food that I end up making during the winter. Spurred by compelling cravings for creamy white beans and for smoky bacon.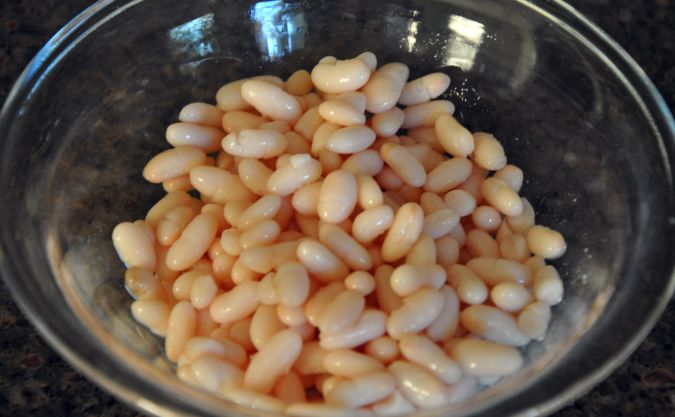 A winter green may have been preferable, but the baby spinach was convenient. And attractively packaged. And already washed (although I am randomly compulsive and washed it again).
I made one small concession to the season and brightened the final dish with fresh basil.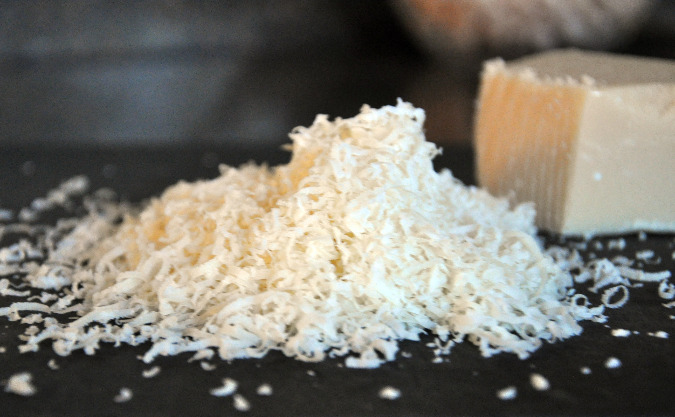 The spaghetti was really just a vehicle for the garlicky, salty, spicy, silky goodness.
The dish was spot-on for a Sunday supper before another draining week. It will definitely make many more appearances with a variety of greens in a few months.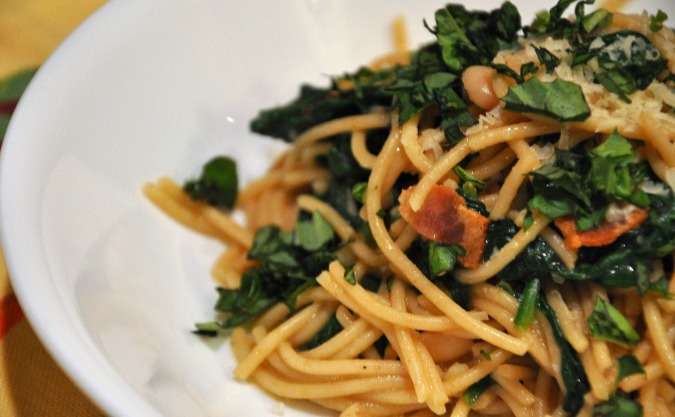 Spaghetti with White Beans, Spinach, and Bacon
Ingredients
1/3 pound sliced bacon, cut crosswise into thin strips
1 tablespoons olive oil
5 cloves garlic, minced
1/2 teaspoon red pepper flakes
2 teaspoons anchovy paste
10 ounces baby spinach
2/3 cup canned low-sodium chicken broth
1 14-ounce can cannellini beans, drained and rinsed
1 pound spaghetti
1/2 cup grated Parmesan (plus more for serving)
1 tablespoon butter
Salt
3 tablespoons fresh basil, chopped
Instructions
In a large deep skillet, cook the bacon over moderate heat until crisp. Remove the bacon with a slotted spoon and pour off fat from the pan.
In the same pan, heat the olive oil over moderately low heat. Add the garlic, red pepper flakes, and anchovy paste. Cook, stirring, until fragrant, about 30 seconds. Stir in the spinach, until wilted. Add the broth and beans and bring to a simmer. Reduce the heat and cook, covered, for 5 minutes.
Meanwhile, cook the spaghetti until just done. Drain the pasta and add it to the pan with the spinach mixture. Stir in the Parmesan, bacon, and butter. Salt to taste. Top each serving with basil.
http://www.allfourburners.com/2010/08/19/spaghetti-with-white-beans-spinach-and-bacon/
Copyright © All Four Burners. All Rights Reserved.
Adapted from Food & Wine
About AFB

Follow AFB

Find Recipes

Recent Posts

Archives

Bloggy Inspiration

Local Yokels