Crostini with Figs and Gorgonzola
Posted on 02 September 2010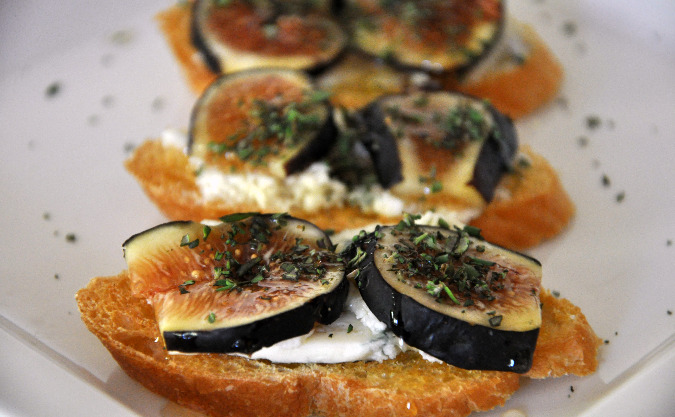 This week has been a blur.
Although our friends from Boston left early Sunday, giving me enough time to indulge in a serious nap, work this week has been non-stop. It began long; it's ending long. It began with a bang and will end with a whimper. There were intermittent periods of frenzy, followed by lengthy periods of ennui.
Until today. I am meeting some friends for drinks and calling it an early night. I'm desperately looking forward to working from home (and sleeping in!) tomorrow. And the three-day weekend ahead. Hooray!
These are the hectic days when you long for a uncomplicated and elegant dish that can be almost mechanical in its execution and yet feels like a treat. Its assembly-line construction offers a certain comfort, while the contrasting flavors and textures awaken the taste buds. A smear of blue cheese on crusty bread, topped with dark, sweet fig slices, a drizzle of honey, and minced herbs: a simple pleasure.
Also, I love honey and thyme.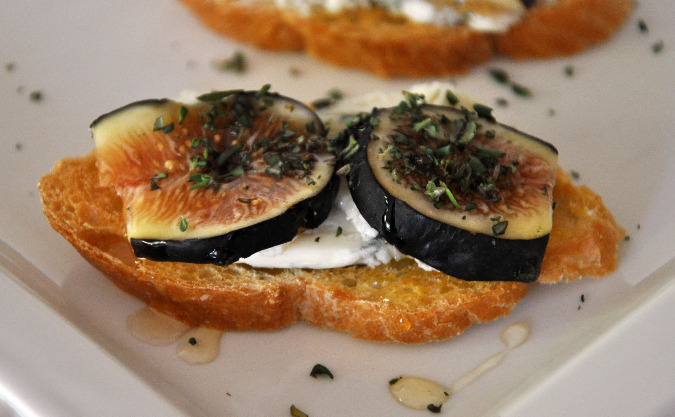 Crostini with Figs and Gorgonzola
Ingredients
8 1/3-inch-thick baguette slices
Olive oil
1/3 cup Gorgonzola
3 large fresh figs, cut into thin slices
2 tablespoons honey
3 teaspoons minced thyme
Instructions
Preheat broiler. Arrange baguette slices on baking sheet and brush lightly with olive oil. Broil until lightly toasted on 1 side. Remove from oven and let cool slightly.
In the meantime, simmer honey in a small saucepan. Cool for 10 minutes.
Spread Gorgonzola over toasted baguette slices. Top with fig slices, drizzle with honey, and sprinkle with thyme.
Serve immediately.
http://www.allfourburners.com/2010/09/02/crostini-with-figs-and-gorgonzola/
Copyright © All Four Burners. All Rights Reserved.
Adapted from Bon Appetit*
* This is so ridiculously easy that it feels like cheating to pass this off as a recipe. But I had also never considered serving figs with Gorgonzola (fig jam and goat cheese yes; fresh figs and Gorgonzola no) until I read the original Bon Appetit one.
About AFB

Follow AFB

Find Recipes

Recent Posts

Archives

Bloggy Inspiration

Local Yokels