Classic Basil Pesto
Posted on 14 September 2010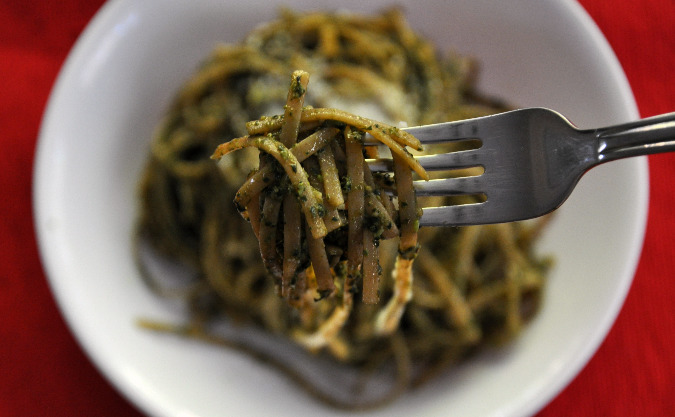 I have decided to reclaim my life.
I have been spending far too much time at work lately–gearing up for what promises to be a revolutionary release–and am in dire need of some non-work time to recharge.
Conveniently, those group–buying sites have conspired to fill my weekend with some fun experiences.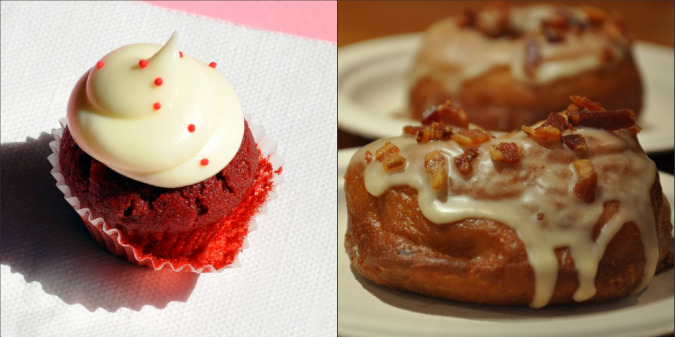 On tap for Saturday was a culinary excursion in the Mission with two friends. I used to live in nearby Noe Valley so I am familiar with many of the older businesses in the area. In the intervening years, the gentrification of the area has accelerated and extended well into what were previously Latino strongholds.
Including 24th Street. It used to be comprised of taquerias, lavanderias, mercados, and tiendas full of quinceanera dresses and was mostly a convenient artery to the freeway. Now, intermingled among these businesses are little foodie havens, with new ones popping up all the time.
Carrie from In the Kitchen with Lisa was our indomitable tour guide. At every stop, we met with food producers, who shared tales of working with other local, small, and usually sustainable businesses. We sampled at each, usually sweet, but a few savory. Given how many calories we consumed, I was very happy not to have eaten breakfast that morning.
Around noon, we merged with another group on the same food tour (lead by Lisa herself) and were treated to a mural tour of Balmy Alley. Along the way, I struck up an illuminating conversation with someone I thought was a fellow tour taker, but turned out to be Heather in SF,  a funny coincidence we didn't realize until many hours later. She pointed out a subtle detail in my favorite mural: one eye of doom and one of hope.
It was a really good day.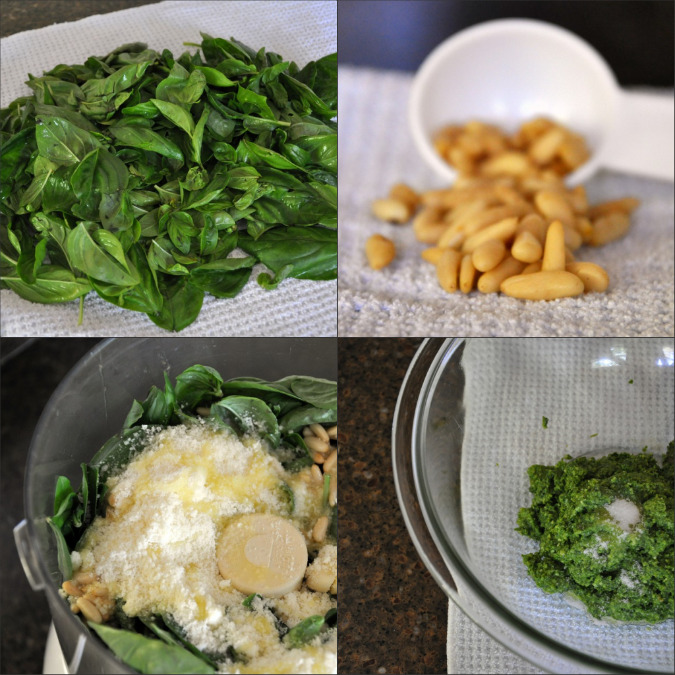 Plus, it was hot. Freaking hot. Gloriously hot. The kind of Indian summer day that we in the Bay Area live for, especially given the cold, rainy year we've had to date.
I had stopped by the farmers market before the tour and scored a screaming deal on basil. Screaming, literally. Three dollars per pound for over six pounds of basil.
Then I started picking the leaves off. For four hours. Granted, I enjoyed five consecutive episodes of Dexter during my labors, but four hours nonetheless.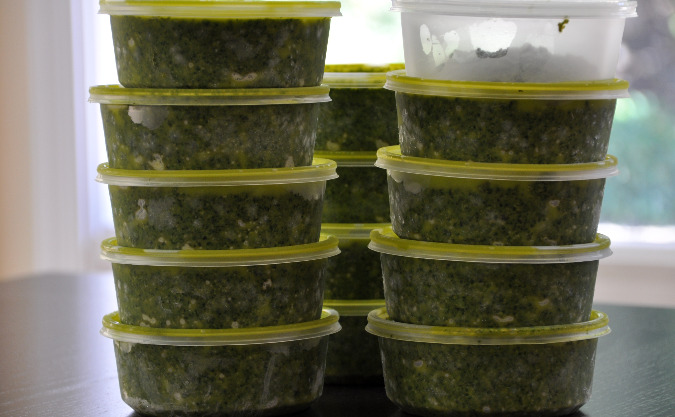 The next night was three and a half hours of pulverizing said basil, with pine nuts, garlic, oil, and cheese. I may have come close to burning out the food processor motor.
But, after so many hours, success (and back pain)! The more than six pounds of basil yielded nearly a gallon of pesto, all of which is currently nestled in my freezer. It will last well into the holiday season (I hope) as a lingering reminder of this summer's few sun-kissed days.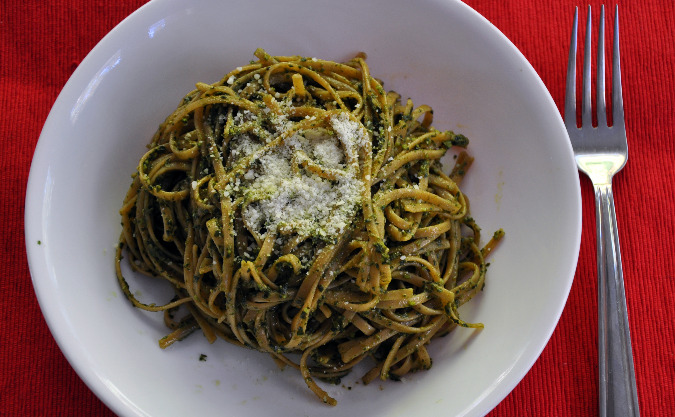 Ingredients
4 cups fresh basil leaves
1/3 cup olive oil
1/3 cup pine nuts
2-3 garlic cloves
1/4 cup grated Parmesan cheese
1/4 cup grated Pecorino Romano
1 teaspoon kosher salt
Instructions
Combine first 4 ingredients in a food processor. Process, stopping frequently to scrape down sides. Add cheeses and salt and process until smooth.
When I combine pesto and pasta, I usually use a little of the pasta water to dilute the pesto and give it a smoother, creamier texture.
http://www.allfourburners.com/2010/09/14/classic-basil-pesto/
Copyright © All Four Burners. All Rights Reserved.
Adapted from Bon Appetit
About AFB

Follow AFB

Find Recipes

Recent Posts

Archives

Bloggy Inspiration

Local Yokels