Roasted Peaches with Vanilla Wafer, Almond, and Brown Sugar Crumble
Posted on 08 August 2012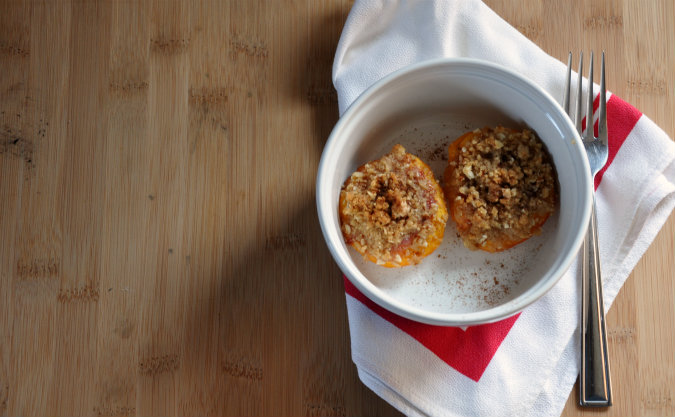 I keep starting to write melancholy blog posts. The insufferable heat and the looming threat of dehydration are affecting my disposition.
Today, I was going to whine about how much I miss my old kitchen. I miss the generous space. I miss the not-blue countertops. I miss the not-tin backsplash that didn't reflect light everywhere.
In the rental kitchen, I have to color correct my photos. (oh no) Sometimes, the light comes in too strongly from the west-facing window so I have to diffuse the light. (boo hoo) The countertops don't hold enough so sometimes I have to overflow to the dining table. (wah)
The last is particularly pressing when you're blanching, peeling, pitting, and slicing 20 pounds of peaches. I did it again; I bought another 20-pound box of fruit.
How did this happen? Again?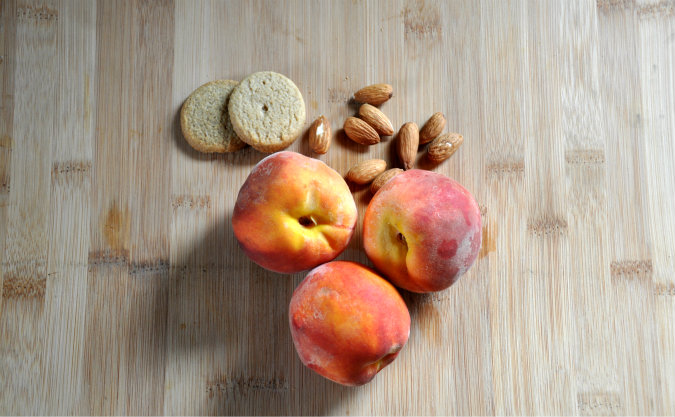 I waited — for months — for peaches to come into season. I heard and read that the local(-ish) Palisade peaches were unrivaled in their honeyed flavor and succulence. When peaches first arrived at the market, the farmers warned me off. Wait until later in the season, they suggested.
I waited. Impatiently. That's how I ended up with that 20-pound box of apricots.
After 3 weeks, I decided I could wait no longer! Peaches had to be mine! Apparently, another 20 pounds of mine.
Out of curiosity, I started off with some butterscotch peach jam. Phenomenal. Then, peach barbecue sauce. Out of this world. I threw together some peach jalapeno jam (to which I now wish I had added some lime) for kicks. Solid.
But I couldn't judge these peaches by preserving alone, could I? I needed to bust out of my preserving rut. Perhaps to bake?
No, this was crazy talk. I had heard too many contrasting theories of how to manage high-altitude baking. Clearly, this meant that none were trustworthy. There was no clearly defined method by which to ensure reliable results.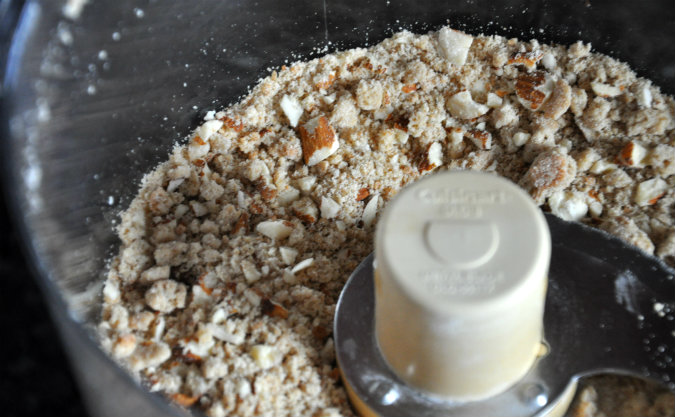 Roasting, on the other hand, had some sureness about it. I understand what happens to fruit when it roasts. Even at altitude.
As a fan of easy healthy(ish) desserts, this recipe was compelling. Also, the results were petite and cute. Also, I could make a bunch of changes to the original and still end up with gratifying satisfying treat.
And then I proceeded to eat 2 servings. So much for healthy.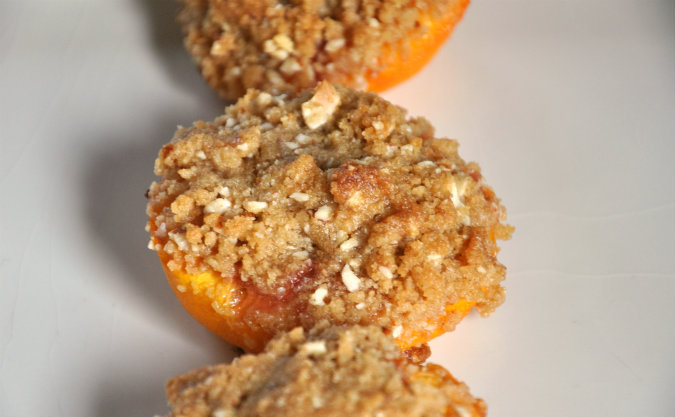 Roasted Peaches with Vanilla Wafer, Almond, and Brown Sugar Crumble
Ingredients
10 vanilla wafers
3 tablespoons whole natural almonds
2 tablespoons all-purpose flour
1 1/2 tablespoons light brown sugar
3 tablespoons chilled unsalted butter, cut into 1/2-inch cubes
3 ripe peaches, peeled, pitted, and halved
Instructions
Preheat oven to 350°F. Butter baking dish.
Combine vanilla wafers, almonds, flour, and brown sugar in food processor. Pulse until vanilla wafers and almonds are coarsely chopped. Add 3 tablespoons chilled butter to processor. Pulse mixture until moist clumps form.
Place peach halves, cut side up, in prepared dish. Spread topping over surface of each peach half (about 1 generous tablespoon for each) and press lightly to adhere and leaving 1/4-inch plain border.
Bake peaches until tender when pierced with knife and topping is golden brown, about 35 minutes. Cool slightly. Transfer 1 warm roasted peach half to each of 6 plates and serve.
http://www.allfourburners.com/2012/08/08/roasted-peaches-with-vanilla-wafer-almond-and-brown-sugar-crumble/
Copyright © All Four Burners. All Rights Reserved.
Adapted from Bon Appetit
About AFB

Follow AFB

Find Recipes

Recent Posts

Archives

Bloggy Inspiration

Local Yokels