Gougeres (Cheese Puffs) with Manchego and Black Pepper
Posted on 15 August 2012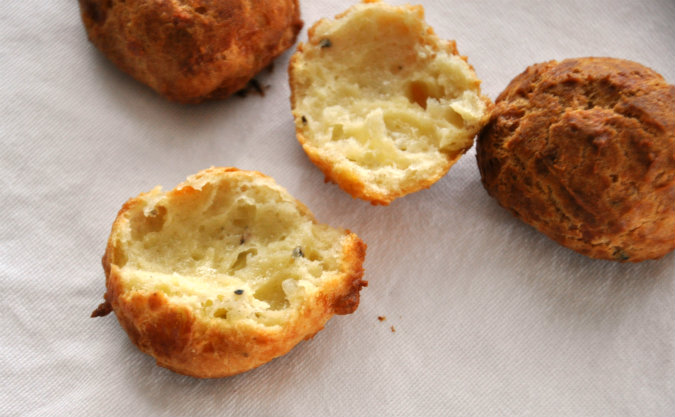 Do you think that Julia Child in real life was really as charming as portrayed by Meryl Streep in the movie?
I like to imagine so. I admire the fictional Child's zest for life, her frank delight in well-prepared food, and her supportive, loving relationship with her husband. And her work ethic.
I didn't know much about Julia Child when she was actually on TV. French cooking held no interest — when we ate out, I was all American, all the way. Also, I was about 5 and spent my hours watching Sesame Street and The Electric Company.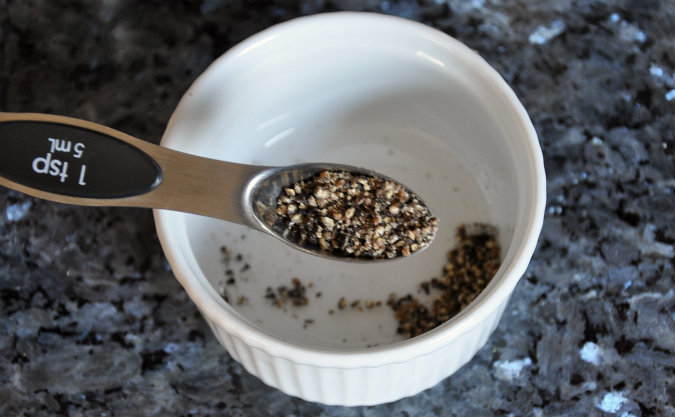 Though pommes frites were always welcome — who says no to French fries — it required decades for me to come around on French cuisine. Plus, remember French haute cuisine in the 1980's? It was all heavy, rich sauces and weird meat like duck and rabbit.
Thank goodness that not all French food is like that. Now, I can appreciate the uncomplicated perfection of a whole roasted chicken, a composed salad, and a homey cassoulet.
That's precisely what I appreciate most about these gougeres. Sure, they can also be referred to as cheese puffs, but 1. that's not nearly as fancy and 2. they should not be confused with Cheetos. As an hors d'oeuvres, they are dead simple (that's "simple" with the French pronunciation — that's right, I took French in college) and seem super elegant.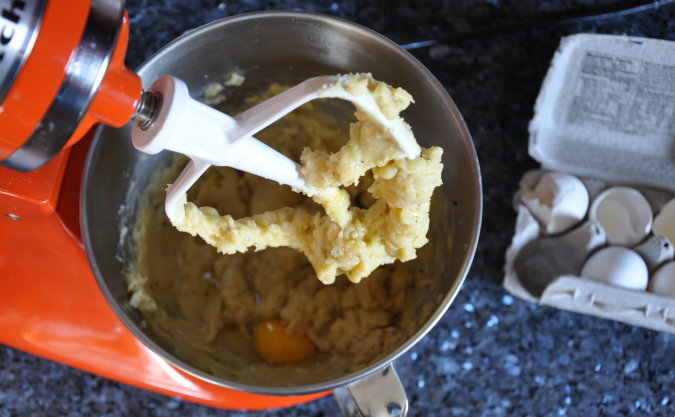 This version, which I completely cribbed from Chow, is elevated by the inclusion of manchego and black pepper (apparently, always a favorite). I threw in an insufficient amount of thyme for good measure, but I couldn't taste it so it's omitted from the recipe below. Mine ended up a bit darker than I would have liked so, next time, I will cut the cooking time. I enjoyed (far too many of) them with a glass(es?) of sparkling wine.
I plan to experiment further to hone the recipe. The next batch will feature more traditional cheese, like Gruyere; later, I will make them without the cheese as the base for profiteroles.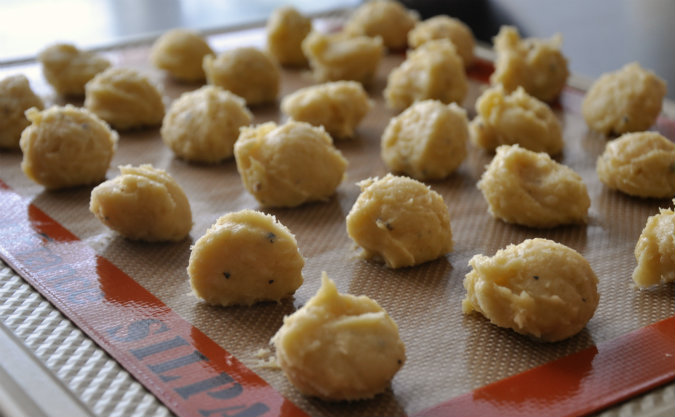 But, for now, Matt and I have agreed that gougeres are to Christmas what cheese coins with habanero jam are to Thanksgiving. They will have a place at our holiday table for years to come.
I'd like to think that (the Meryl Streep version of) Julia would be proud of her (not at all) fearless little American.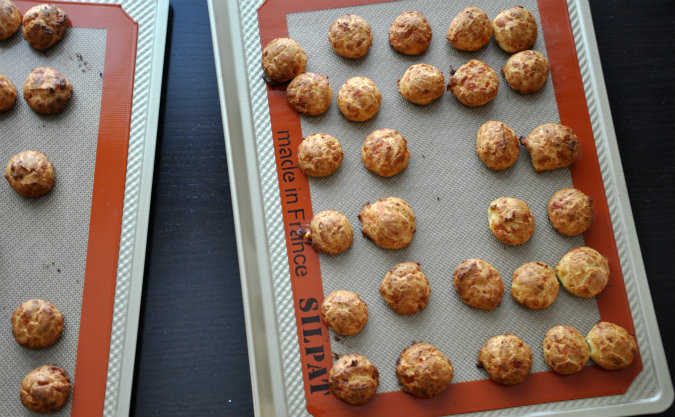 Gougeres (Cheese Puffs) with Manchego and Black Pepper
Ingredients
1 1/2 cups milk
8 tablespoons unsalted butter
1 tablespoon kosher salt
1 teaspoon freshly ground black pepper
1 1/2 cups all-purpose flour
5 large eggs
1 cup shredded aged Manchego cheese (I used a 1-year-old cheese; the original recipe called for 3-6 months)
1/2 cup finely grated Parmesan cheese
Instructions
Heat the oven to 375 degrees and arrange racks in the upper and lower third. Line 2 baking sheets with silicone baking mats or parchment paper.
Combine milk, butter, salt, and pepper in a medium saucepan and bring to a boil over medium heat. Reduce heat to low, add flour all at once, and stir vigorously until well incorporated. Cook, (have your husband) stirring constantly, until dough feels dry to the touch and is no longer sticking to the bottom of the pan, about 3 to 5 minutes. The dough will form one large ball.
Transfer dough to a mixer fitted with a paddle attachment. Beat in eggs one at a time on medium-low speed, letting the first one completely incorporate before adding the next. Reserve 3 tablespoons of the shredded Manchego cheese. Add remaining Manchego and Parmesan cheese to dough and mix on low until incorporated.
Drop tablespoon-size rounds of dough on the prepared baking sheets, about 1/2 inch apart. Evenly sprinkle reserved Manchego cheese over top. Bake, rotating halfway through baking time, until puffed and golden brown, about 30 to 35 minutes. Serve hot, warm, or at room temperature.
http://www.allfourburners.com/2012/08/15/gougeres-cheese-puffs-with-manchego-and-black-pepper/
Copyright © All Four Burners. All Rights Reserved.
From Chow
About AFB

Follow AFB

Find Recipes

Recent Posts

Archives

Bloggy Inspiration

Local Yokels