Brown Butter Strawberry Vanilla Bread
Posted on 22 August 2012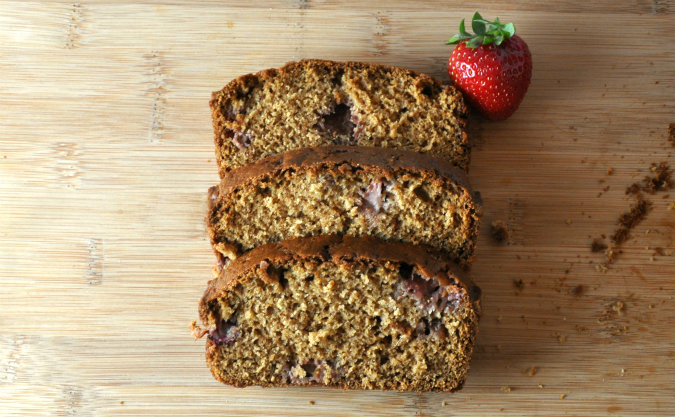 High-altitude baking intimidates me.
I know the gougeres turned out fine last week. But those didn't contain any leavening agents.
Bread requires leaveners. Sometimes, as in this case, even 2. I've spent months avoiding baking whenever possible. I've combed the interwebs to understand the science and — let's be honest here — exact formulas that would guarantee high-altitude baking success.
Sorry to break it to me, but there aren't any formulas. Baking at high altitudes is a leap of faith.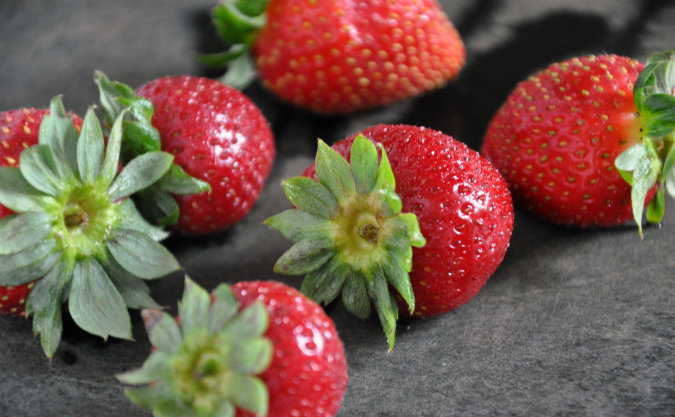 I'm not good at that.
Some have tried to assuage my visions of failure: of sunken craters and of sticky cakes. I briefly considered attending a high-altitude baking class (egads!). Ultimately, however, it was Cake Duchess and her Twelve Loaves challenge that provided the motivation for this arduous task.
This so-called "bread" did not emerge perfectly from the oven. It was a little dry. It was a little overdone. It was probably denser than it should have been. You know what? I didn't care. Because it was — in Matt's words — "heavenly."
When I decided to participate in this challenge, I naturally turned to my good friend Martha for inspiration. Strawberries are the summer fruit I miss most from living in California. Martha's strawberry bread — with a few modifications — had to be the first baked good I attempted.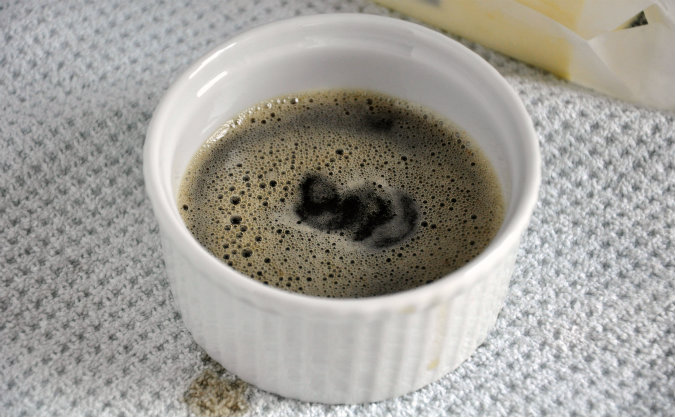 The process was an olfactory feast. Cooking down the strawberries recalled the vats of jam I processed every year. The sublime aroma of the browning butter recalled the Mysore pak my mother used to make. The cinnamon (for which, in retrospect, I wish I had substituted cardamom) recalled almost every American baked treat I enjoyed as a child.
And that was before it even went into the oven.
Martha recommends cream cheese as a spread. I recommend enjoying this warm straight out of the oven.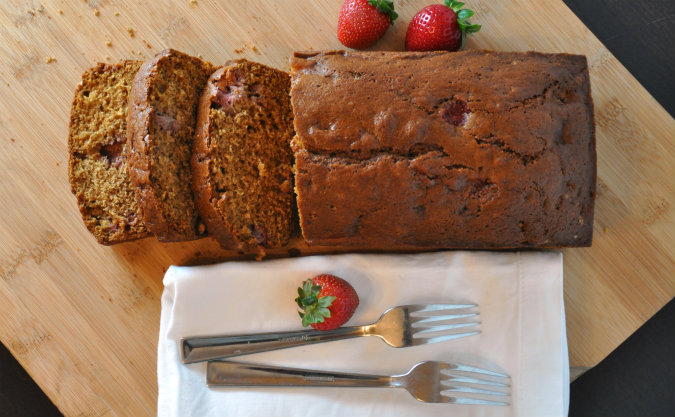 Brown Butter Strawberry Vanilla Bread
Ingredients
5 tablespoons, plus 1 teaspoon, browned unsalted butter
1 pint strawberries, rinsed, hulled, quartered, and mashed with the back of a spoon
1 3/4 cups all-purpose flour
1 teaspoon baking soda
1/2 teaspoon cinnamon
1/4 teaspoon baking powder
1/4 teaspoon salt
1/2 cup white sugar
1/2 cup light brown sugar
1 teaspoon vanilla extract
2 eggs
1/3 cup water
Instructions
Preheat oven to 350 degrees. Butter an 8-by-4-inch loaf pan. In a small saucepan, bring strawberries to a boil over medium heat. Cook, stirring constantly, 1 minute. Set aside.
Whisk together flour, baking soda, cinnamon, baking powder, and salt; set aside. With an electric mixer, cream butter, sugars, vanilla extract, and eggs in a mixing bowl until light and fluffy. Add flour mixture alternately with water, beginning and ending with flour. Gently fold in reserved strawberries.
Scrape batter into prepared pan and smooth top. Bake until a toothpick inserted in center comes out clean, about 1 hour (tent with foil after 45 minutes if top is getting too dark). Cool in pan 10 minutes. Run a knife around edges; invert onto a rack. Reinvert; cool completely.
Or be like me and eat straight out of the pan.
http://www.allfourburners.com/2012/08/22/brown-butter-strawberry-vanilla-bread/
Copyright © All Four Burners. All Rights Reserved.
Adapted from Everyday Food
About AFB

Follow AFB

Find Recipes

Recent Posts

Archives

Bloggy Inspiration

Local Yokels