Watercress and Potato Soup (Potage Cressoniere)
Posted on 29 August 2012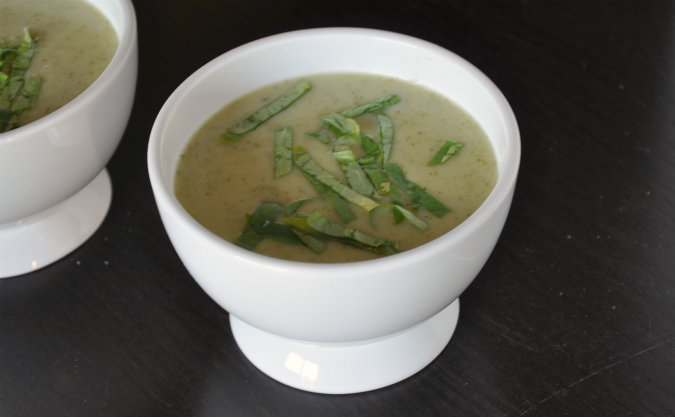 I like mid-century style.
I suspect that Matt's interior design style used to be far more traditional. I'm assuming it was all dark wood, rolled arms, and overstuffed cushions. Under my (per Sproost) "modern elegance" tutelage, his taste shifted toward the sleek and modern. So much so that I influenced him to buy a chrome Space Age spotlight lamp a few weeks ago.
I'm powerful like that.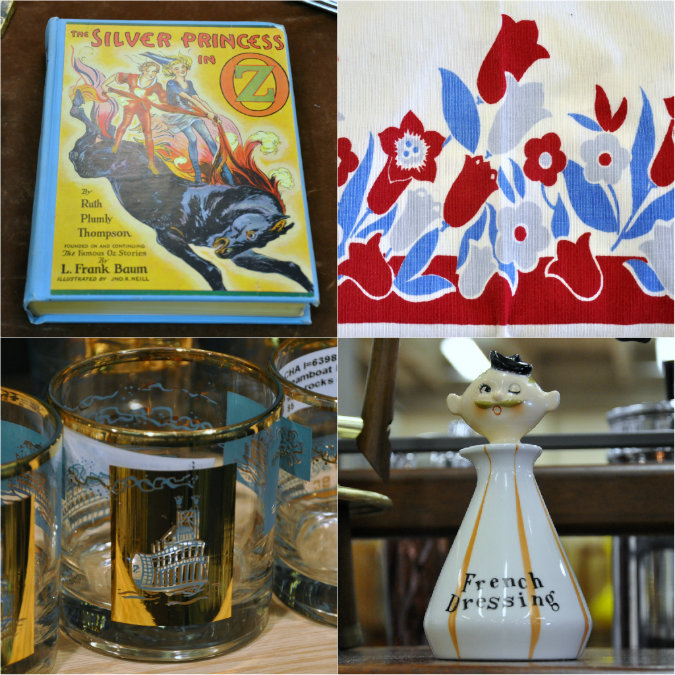 Which is how we learned that there was going to be a Modernism show in Denver at the end of August. Not modernism as in the art movement, but "modernism" as in (mostly) mid-century style.
There was no question we would go. Not only was there a pageant (Miss Modernism) with costumes!!!, but also shopping galore. Bonus: it was at the National Western Complex, home of the National Western Stock Show, a long-time Denver tradition.
Within 10 minutes of entering the show, I found myself standing right next to Miss Modernism 2010. I (mostly) successfully resisted the urge to squeal.
I was not similarly successful, however, as we browsed the booths. Space age-inspired chairs. Hooray! Silver-rimmed cocktail sets, just like I've always wanted. Squee! Rad punchbowls. Woo-hoo! A mint condition projector (that, despite its multi-hundred dollar price tag, I nearly broke down and bought). YES!
Exhilarated, I hurried home to scour Amanda Hesser's distillation of The New York Times food archive for a suitably mid-century dish with which to commemorate the show. Initially, the horror of jello, jello molds, and other gelatinous substances overwhelmed. That is until I stumbled on this lovely potage — with watercress, no less.
Not surprisingly, I made some slight modifications. In lieu of whole milk, I used skim. For cream, half and half. In fact, I almost omitted the yolks and half and half altogether for fear of the fat, but they lent a lovely silkiness to the finished product.
Perhaps more importantly, I broke out 2 of my favorite kitchen tools: the immersion blender (instead of the food mill) and the mandoline (and nearly sliced off half my thumb).
We sopped up the potage with Matt's tomato and roasted garlic bruschetta.
I'm becoming fancy and French in my old age.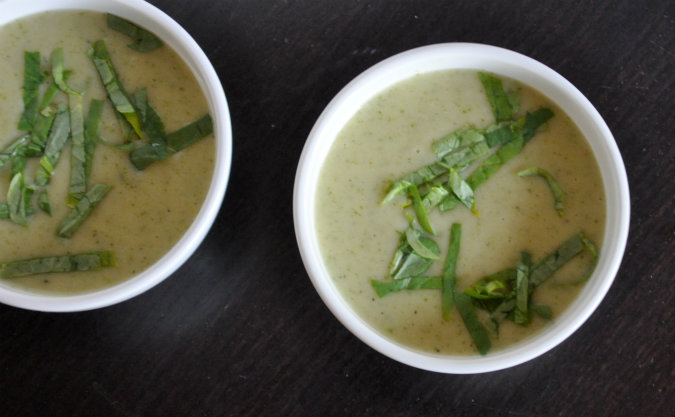 Watercress and Potato Soup (Potage Cressoniere)
Ingredients
4 tablespoons unsalted butter
1 garlic clove, minced
2 cups chopped onions
4 cups thinly sliced peeled white potatoes
1 tablespoon salt
1/4 teaspoon freshly ground black pepper
2 1/4 cups water
1 large bunch watercress, trimmed and washed
1 1/2 cups skim milk
2 large egg yolks
1/2 cup half and half
Instructions
Melt the butter in a large saucepan. Add the garlic and onions and saute until tender, about 5 minutes. Add the potatoes, salt, pepper, and 3/4 cup water, cover, and bring to a boil. Reduce the heat and simmer until the potatoes are almost tender, about 15 minutes.
Cut the watercress stems into 1/8-inch lengths. Coarsely chop half of the leaves and julienne the remainder.
Add all the watercress stems, the chopped leaves, the milk, and the remaining 1 1/2 cups water to that potato mixture. Simmer for 15 minutes.
Allow the soup to cool for 10 minutes. Puree the soup using an immersion blender. Reheat and adjust the seasoning.
Blend together the egg yolks and half and half. Gradually stir this mixture into the soup and cook, stirring constantly without letting it boil, until slightly thickened. Garnish with the remaining watercress leaves.
http://www.allfourburners.com/2012/08/29/watercress-and-potato-soup-potage-cressoniere/
Copyright © All Four Burners. All Rights Reserved.
Adapted from The Essential New York Times Cookbook
About AFB

Follow AFB

Find Recipes

Recent Posts

Archives

Bloggy Inspiration

Local Yokels