Musk Melon (Cantaloupe) Basil Sorbet
Posted on 05 September 2012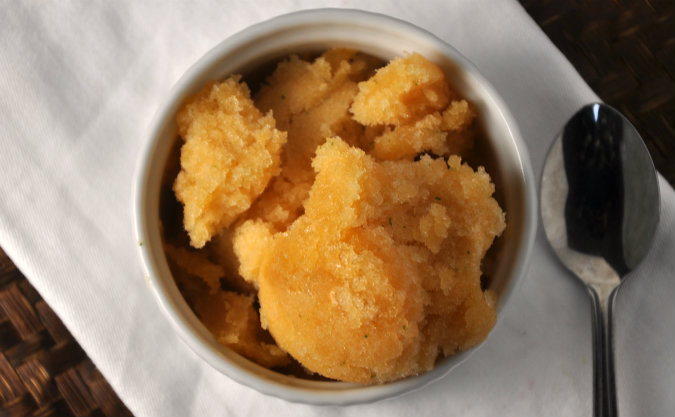 I never gave a second thought to where cantaloupes are grown.
Actually, I never even gave them a first thought.
Italy? El Salvador? China? Seriously, no clue.
But, once I moved to Colorado, summer was all "peaches peaches peaches" and "cantaloupe cantaloupe cantaloupe."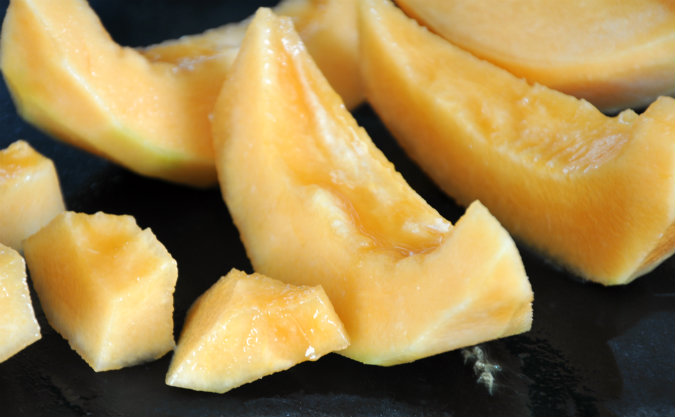 Since they conjure memories of cheap fruit salads, I am not a fan of cantaloupes. I once made prosciutto-wrapped melon for the first party I ever hosted (coincidentally, back in the summer of '99, when I lived in Denver before). Its success was largely due to its addictive combination of salty and sweet.
Now, as a true Coloradoan, it felt compulsory to use cantaloupe as part of a recipe this summer. After some research, I focused on sorbets, agua frescas (or should that be aguas frescas?), and cold soups. The ice cream maker looked awfully lonely…so, yes, sorbet — with some savory basil for good measure — was the right choice.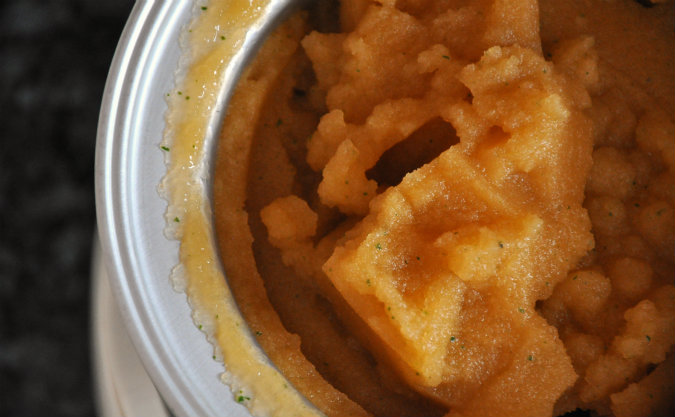 Rather than a cloying dessert, this sorbet is best served as a refreshing palate cleanser between courses.
P.S. Is there a difference between musk melon and cantaloupe? They seem to be at least closely related, if not the same.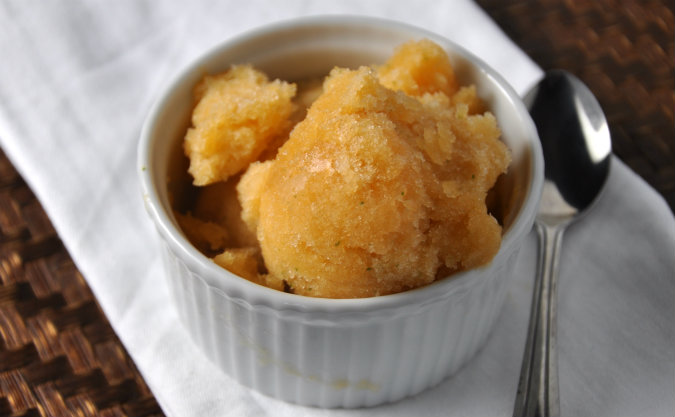 Musk Melon (Cantaloupe) Basil Sorbet
Ingredients
1/2 cup white sugar
1/2 cup water
10 basil leaves, divided
2 small musk melons (cantaloupes), peeled, seeded, and diced
Instructions
In a small sauce pan, stir the sugar and water over medium heat, stirring until sugar is dissolved. Remove from heat, add 5 basil leaves, and allow to steep until cool. Strain or remove the basil leaves.
Puree the musk melons or cantaloupe in a blender or using an immersion blender until smooth. Stir in 1/2 cup of the basil-infused simple syrup and reserve the remainder for another use.
Finely chop the remaining 5 basil leaves and stir into the musk melon mixture. Refrigerate for at least 30 minutes.
Pour the mixture into an ice cream maker and freeze according to the manufacturer's directions.
Pack the sorbet into an airtight container and store in the freezer at least overnight (optimally 24 hours).
http://www.allfourburners.com/2012/09/05/musk-melon-cantaloupe-basil-sorbet/
Copyright © All Four Burners. All Rights Reserved.
Adapted from Food & Wine
About AFB

Follow AFB

Find Recipes

Recent Posts

Archives

Bloggy Inspiration

Local Yokels