Blackberry Cream Cheese Muffins with Cardamom and Vanilla
Posted on 22 September 2012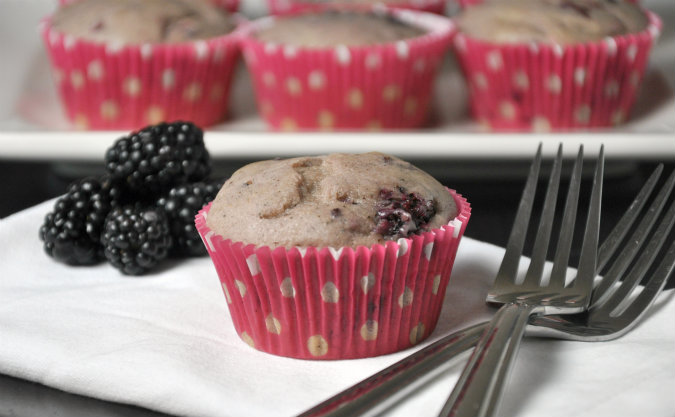 I am in deep denial that summer is over.
Deep deep deeeeeeeeeeeep denial.
Although autumn is my favorite season, its dawn portends of the coming winter. The coming stupid winter. With its short days, bitter cold, and — worst of all — snow.
Every year, I cling to the final vestiges of summer. I delude myself into trusting that peaches, plums, tomatoes, and peppers are solely summer fruits. Since they are still in the farmers market come September, I tell myself, it cannot be autumn already.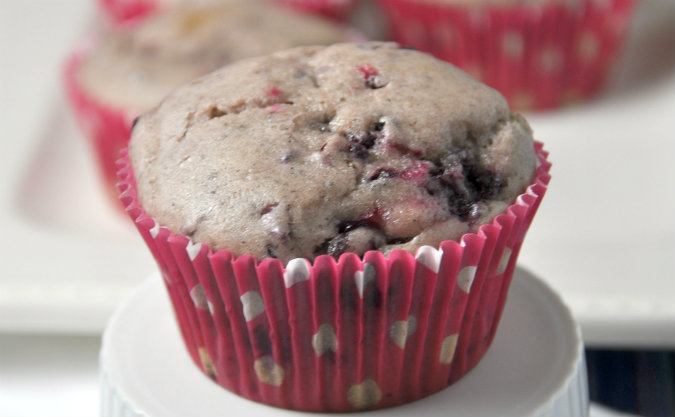 When Barb posted this month's Twelve Loaves challenge theme, cheese, my mind reeled at the possibilities. First, I planned a proper bread — with yeast and everything. Then, again disheartened by the high altitude and looming threat of failure, I considered pretzels; they seemed unexpected and tailor-made for September and Oktoberfest. Alas, someone else — a more accomplished baker — beat me to it.
I combed the interwebs for another answer. On Pinterest, I stumbled upon…er, found this simply stunning pumpkin cream cheese loaf. A-ha! Cream cheese is cheese! The clear cheese choice!
Since I am [read: allegedly] trying to eat more consciously and limit fat and junk food from my diet, I wanted to incorporate an American Neufchatel, a.k.a. low-fat cream cheese. Since my Twelve Loaves contribution would be baked, the slight flavor difference would be imperceptible. The Neufchatel would also lend a tangy moistness to whatever I selected.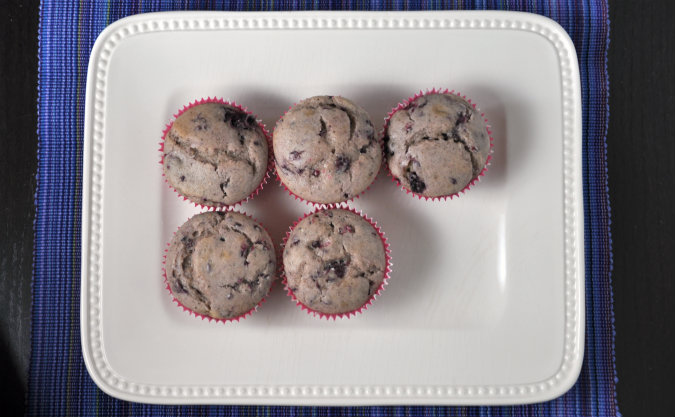 When this Cooking Light recipe turned up, I knew it was a winner. Not only did it include Neufchatel, but also buttermilk (even more tang!). It was also lower in fat than most so I could continue to mislead myself that I was eating more wholesomely.
Moreover, the muffins contained berries…glorious berries! I could pretend that the muffins were healthy (fruit is healthy) — more importantly — and that it was still summer!
Well, it is. In California, where the berries were from. How terrible of me to eat neither locally nor seasonally.
Note the standard Hima modifications: 50/50 brown and white sugars, blackberries, and ground vanilla. I also cut the blackberries into halves or quarters (depending on the size) so that the berry bites were more evenly distributed.
My only concession to autumn was substituting cardamom (yay!) for some of the vanilla. But I would make that substitution any time of the year.
I'm still in denial.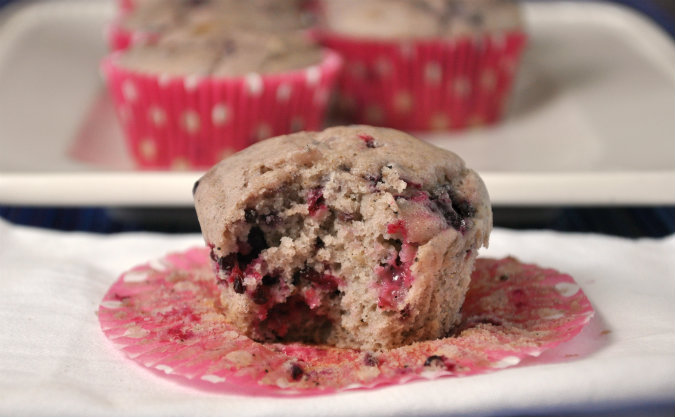 Blackberry Cream Cheese Muffins with Cardamom and Vanilla
Ingredients
2/3 cup (5 ounces) 1/3-less-fat cream cheese (a.k.a. Neufchatel), softened
1/3 cup butter, softened
3/4 cup brown sugar
3/4 white sugar
2 large egg whites
1 large egg
2 cups all-purpose flour
1 teaspoon baking powder
1/4 teaspoon baking soda
1/2 teaspoon salt
1 teaspoon ground vanilla (or vanilla extract)
1/4 teaspoon cardamom
1/2 cup low-fat buttermilk
12 ounces fresh or frozen blackberries (or other berries), halved or quartered
Instructions
Preheat oven to 350 degrees.
Combine cream cheese and butter in a large browl. Beat with a mixer at high speed until well blended. Add sugar; beat until fluffy. Add egg whites and egg; beat well.
Lightly spoon flour into dry measuring cups; level with a knife. Combine flour, baking powder, baking soda, salt, ground vanilla, and cardamom. With mixer on low speed, add the flour mixture and buttermilk to cream cheese mixture, beginning and ending with flour mixture. Gently fold in blackberries.
Place 24 cup liners in muffin cups. Spoon batter evenly into liners. Bake at 350 degrees for 25 minutes or until a wooden pick inserted in center comes out clean.
Remove from pans; cool on a wire rack.
http://www.allfourburners.com/2012/09/22/blackberry-cream-cheese-muffins-with-cardamom-and-vanilla/
Copyright © All Four Burners. All Rights Reserved.
Adapted from Cooking Light
About AFB

Follow AFB

Find Recipes

Recent Posts

Archives

Bloggy Inspiration

Local Yokels