Slow Cooker Pesto Lasagna with Spinach, Mushrooms, and Sausage
Posted on 22 October 2012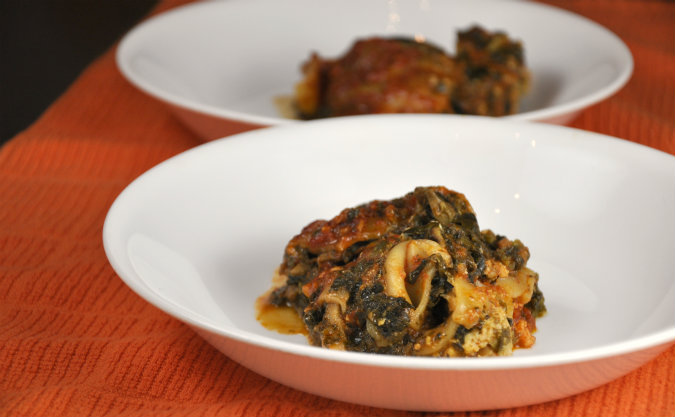 I have the moving blues.
Don't get me wrong. I am thrilled to move back to California. Delighted. Primed.
It's just that there's a whole lot of packing in front of us. As I begin to repack our worldly belongings, I am racked with indecision: "Will I need this in the next three weeks?;" "Will there be a blizzard and my sweaters and boots are already packed?;" and, of course, the inevitable "Why do I own so very many things?!"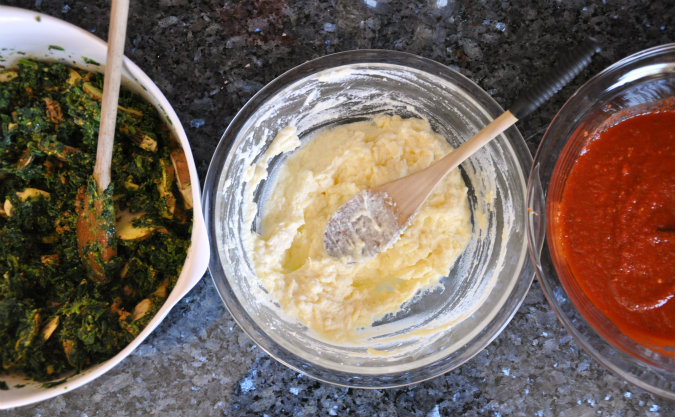 Who knew that deliberating about packing — rather than actual packing — could keep me so busy? Thank goodness that the paint colors (yet another source of distraction) were decided weeks ago.
Also, the prospect of making lasagna was not one I relished. Therefore, I procrastinated for as long as humanly possible.
Oh, lasagna. Too meaty. Too cheesy. Too fatty. Too, too, too…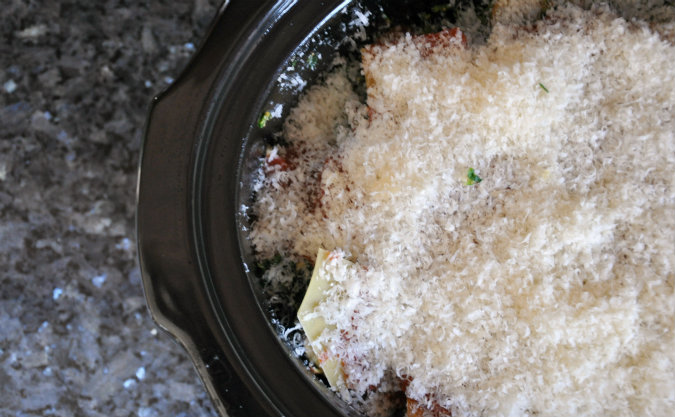 Admittedly, this lasagna is probably too spinach-y for most tastes (though, apparently, not Matt's and my own). No problem, reduce the amount of spinach. A vegetarian? Eliminate the sausage and add some crushed red pepper and fennel seed to jazz it up. Don't like baby bella mushrooms? Use mushrooms you prefer.
Arguably, the best part of this lasagna is that the noodles emerge pliable and chewy — not crispy and brittle as lasagna noodles often do. That's the beauty of using the slow cooker, which I refuse to pack…for at least another 2 weeks.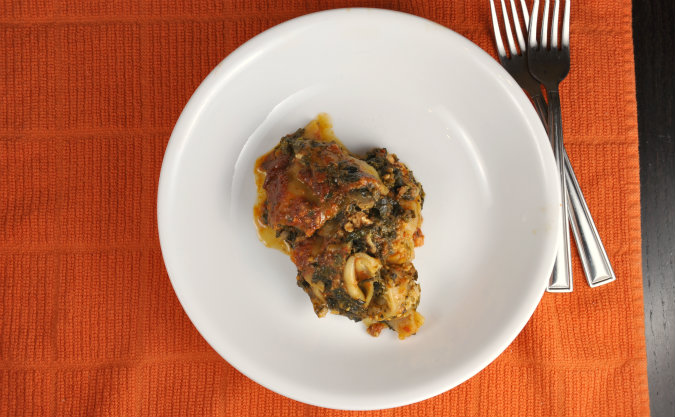 Slow Cooker Pesto Lasagna with Spinach, Mushrooms, and Sausage
Ingredients
2 16-ounce packages of frozen spinach, thawed, frozen, and squeezed dry
1 cup sliced baby bella mushrooms
8 ounces hot Italian turkey sausage, casings removed
1 cup basil pesto
3/4 cup (3 ounces) shredded part-skim mozzarella cheese
3/4 cup (3 ounces) shredded provolone cheese
1 15-ounce carton fat-free ricotta cheese
1 large egg, lightly beaten
3/4 cup (3 ounces) grated fresh Parmesan cheese, divided
1 25.5-ounce bottle tomato-basil pasta sauce
1 8-ounce can tomato sauce
2 cloves garlic, minced
Cooking spray
1 8-ounce package pre-cooked lasagna noodles
Instructions
Cook sausage in a skillet coated with cooking spray over medium-high heat 8 to 10 minutes until brown, breaking sausage into pieces while cooking.
Combine spinach, mushrooms, sausage, and pesto in a bowl.
Combine mozzarella, provolone, ricotta, and beaten egg in a bowl. Stir in 1/4 cup Parmesan.
Combine pasta sauce, tomato sauce, and garlic in a bowl.
Spread 1/4 of the pasta sauce mixture in the bottom of a 6-quart oval electric slow cooker coated with cooking spray. Arrange 3 noodles over the pasta mixture; top with 1/3 of the cheese mixture and then 1/3 of the spinach mixture.
Repeat the layers, ending with the spinach mixture.
Arrange 3 noodles over the spinach mixture. Top with final 1/3 of the cheese mixture and 1/4 of the pasta sauce mixture.
Place the remaining 3 noodles over the sauce mixture. Spread the remaining sauce mixture over the noodles.
Sprinkle with the remaining 1/2 cup Parmesan cheese.
Cover with lid. Cook on low for 5 hours or until done.
http://www.allfourburners.com/2012/10/22/slow-cooker-pesto-lasagna-with-spinach-mushrooms-and-sausage/
Copyright © All Four Burners. All Rights Reserved.
Adapted from Cooking Light
About AFB

Follow AFB

Find Recipes

Recent Posts

Archives

Bloggy Inspiration

Local Yokels