Slow Cooker Turkey Pumpkin Chili Mexicana
Posted on 03 November 2012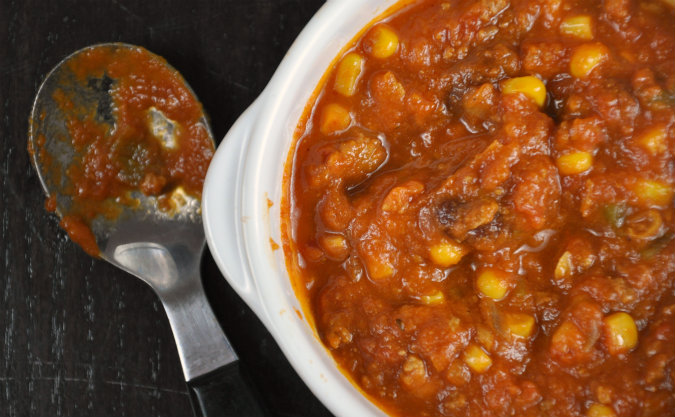 Perhaps I was foolish to visit my parents when a superstorm was predicted to make landfall on the Maryland coast.
I prefer to think of myself as foolishly optimistic.
I may have been foolish too when I elected not to change my ticket from Tuesday to Wednesday, even though it was clear that Maryland Emergency Management officials were not going to open the airport. By the time my flight was officially canceled on Monday, Wednesday's flights were fully booked so I had to fly on Thursday.
I came home 2 days late and was unintentionally away 7 days during this critical period for packing and moving.
Hmmm…I may need to face the fact that I was an idiot.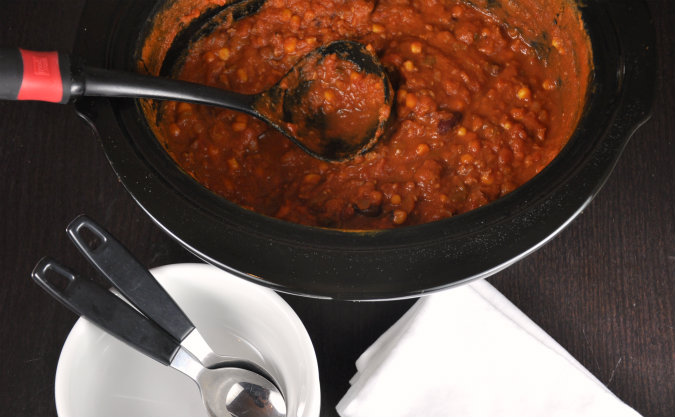 Let me be clear — I consider myself incredibly lucky. I was able to leave on Thursday, unlike many travelers further north. Maryland was spared the brunt of the storm. My mother's house never lost power and suffered no damage.
At worst, I was bored. A bored lucky idiot.
Folks in New York, New Jersey, and Connecticut are still dealing with power outages, food shortages, fuel shortages, among other issues. Here's information on how you can help.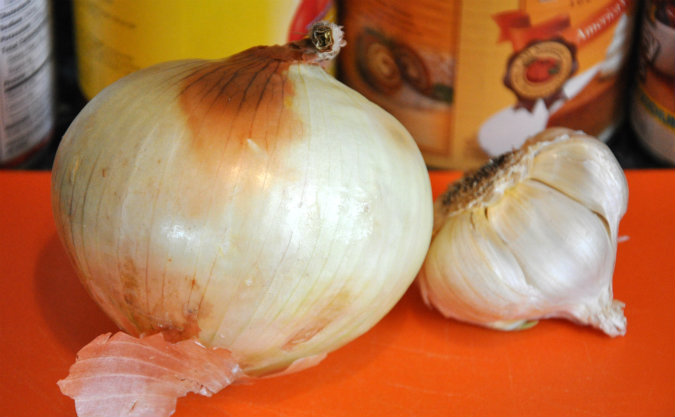 The other unintended consequence — besides being hopelessly behind in packing — is that this slow cooker pumpkin chili recipe is coming to you in November, not in the slow cooker month of October. Egads.
Matt is famous near and  far for this pumpkin chili; it is eagerly anticipated at our annual Halloween party. The addition of pumpkin lends the chili a hearty girth, while also boosting its nutritional value. Matt recommends serving it with a dollop of sour cream — to counter its spiciness — and with cornbread — just because it's tasty.
It is a fine ending to slow cooker month.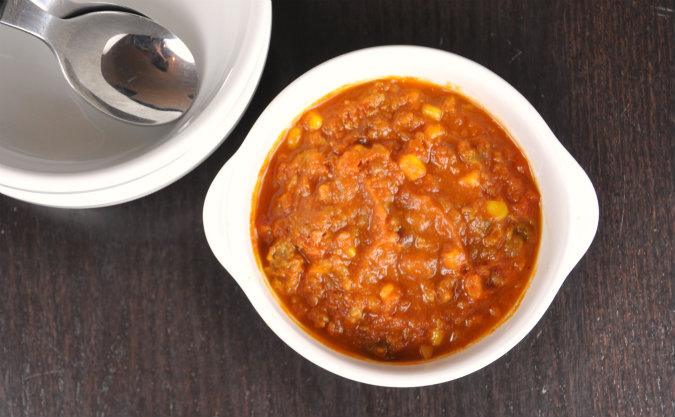 Slow Cooker Pumpkin Chili Mexicana
Ingredients
2 tablespoons vegetable oil
1 cup yellow onion, diced
4 garlic cloves, minced
1 pound hot Italian turkey sausage
2 14.5 ounce cans no salt added diced tomatoes (do not drain)
1 28.5 ounce can pumpkin
1 15 ounce can tomato sauce
1 15 ounce can kidney beans, drained and rinsed
2 4 ounce cans diced green chiles (Matt uses hot; you can use mild)
1 cup frozen whole kernel corn
1 tablespoon chili powder
1 teaspoon cayenne pepper
1 tablespoon ground cumin
1 tablespoon salt
1 teaspoon ground black pepper
Instructions
Heat oil in a large saucepan over medium-high heat. Stirring frequently, add onion and garlic and cook for approximately 7 minutes. Remove casings from sausage and add to pan. Cook until browned. Drain fat.
Place turkey mixture into 5-quart slow cooker. Add remaining ingredients. Cook on low for 7 hours.
http://www.allfourburners.com/2012/11/03/slow-cooker-pumpkin-chili-mexicana/
Copyright © All Four Burners. All Rights Reserved.
Adapted from Allrecipes.com
About AFB

Follow AFB

Find Recipes

Recent Posts

Archives

Bloggy Inspiration

Local Yokels