Gorgonzola Blue Cheese Yogurt Dip
Posted on 08 November 2012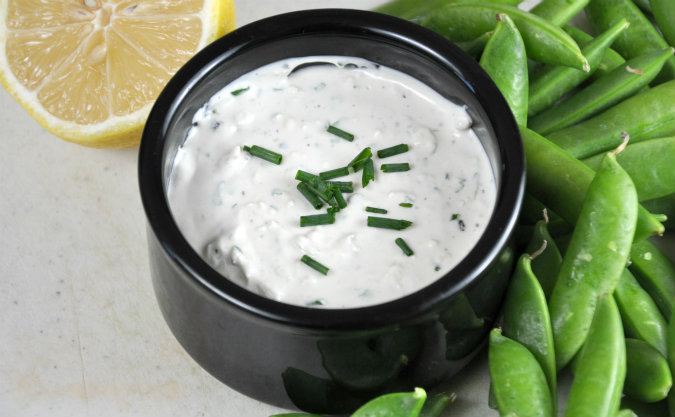 It feels like New York and New Jersey can't catch a break lately.
First, the remnants of Hurricane Sandy, the largest Atlantic hurricane ever, devastated the region with storm surges, flooding, and fires; the resulting damage made the storm the second costliest on record (per Wikipedia) . Just as many people were getting back to normal, they are being walloped this week by a nor'easter, bringing significant wind and more precipitation (boo snow!) to an already saturated area.
As a native East Coaster, it's so frustrating to be thousands of miles away and unable to help. Yes, I have donated money to the Red Cross — as we all have been urged to do — but it's not the same as contributing in a more meaningful way. I can't stand this feeling of passivity and helplessness.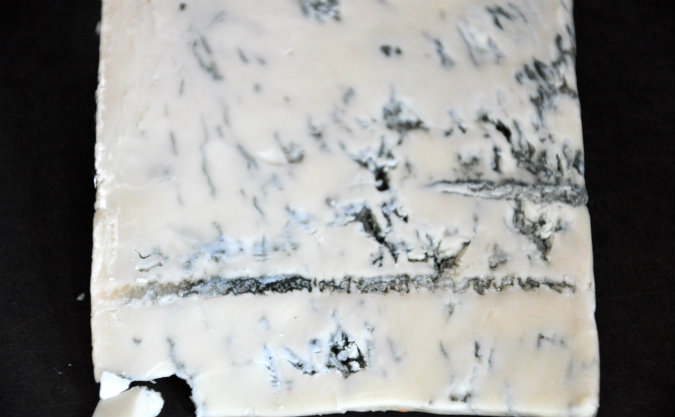 Which is why I am dedicating this post to Food Bloggers Support for Sandy. Organized by 2 fellow food bloggers, the endeavor is designed to galvanize the food blogging community and to spur us all — bloggers and readers alike — to contribute monetarily to relief organizations in support of recovery efforts. The theme is comfort food, a dish that you would share with a friend or neighbor in need.
When the weather is cold or otherwise inclement, I naturally turn to robust, fattening food. In fact, when I was in Maryland during Hurricane Sandy, that's exactly the type of food that I stocked up on. In retrospect, I wish that my mother's kitchen were better equipped for my kind of cooking. There's little doubt that I would have noshed on (somewhat) healthier comfort food, like this dip, than what was readily accessible at the supermarket.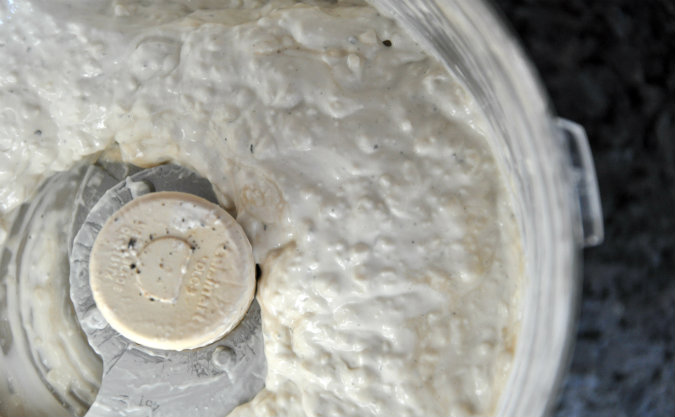 There's no getting around it — this recipe is a fat bomb. I lightened it up from the original and served it with sugar snap peas, but, boy howdy, it is still really rich. I had planned to serve this as a cheesy Thanksgiving appetizer (which is, incidentally, this month's recipe theme), but  it may be too heavy to precede a heavy meal.
I sort of wish that I had gone whole hog (pun intended) and served it with rippled potato chips. It would have been reminiscent (but way, way better) of the sour cream and onion potato chips of my youth. Although it may be a moot point since I degenerated into eating it straight from the bowl.
At least I had the decency to use a spoon.
P.S. If you can afford to, I encourage you to donate to the Red Cross to help those still suffering in the aftermath of Hurricane Sandy.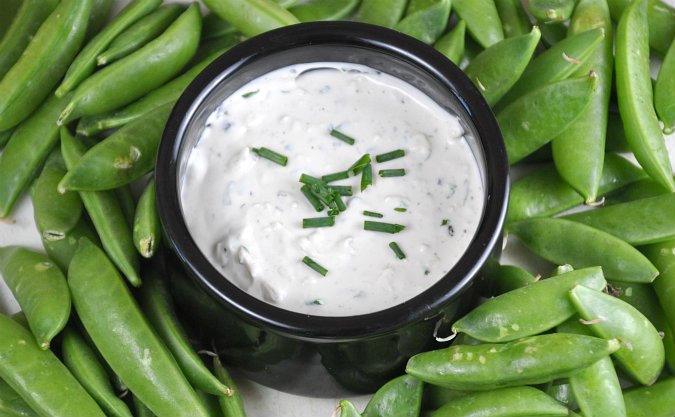 Gorgonzola Blue Cheese Dip
Ingredients
8 ounces 1/3-less-fat cream cheese, softened
1/4 cup Greek yogurt
1/4 cup fat-free half and half
4 ounces Gorgonzola cheese (or other blue cheese)
1/4 teaspoon Worcestershire sauce
2 tablespoons chopped chives
1 tablespoon lemon juice
Instructions
Combine cream cheese, yogurt, half and half, cheese, and Worcestershire sauce in a food processor. Pulse until well-combined and blue cheese is crumbled.
Move mixture into serving bowl. Stir in chives and lemon juice.
Serve with crudites or kettle chips.
http://www.allfourburners.com/2012/11/08/gorgonzola-blue-cheese-yogurt-dip/
Copyright © All Four Burners. All Rights Reserved.
Adapted from Saveur
About AFB

Follow AFB

Find Recipes

Recent Posts

Archives

Bloggy Inspiration

Local Yokels