Can It Up: Fresh and Dried Cranberry Salsa
Posted on 14 November 2012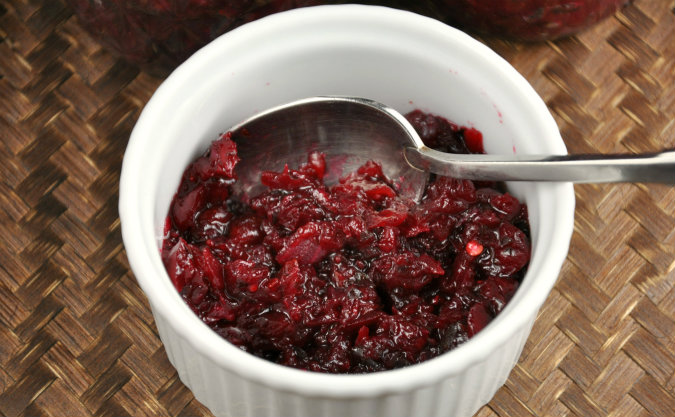 I am a bundle of nerves.
We are in the midst of our move (as in, the movers are literally packing up the truck right now while I stay out of their way in the basement) and I have eczema. Bad. I assume it's from the dust mites that are getting kicked up from the boxes and furniture.
Don't get me wrong. I'm very happy to return to the Bay Area. I'm even happier that we get to move back into our house. I've vowed — but hope that I won't be held to it — that I am going to die in Belmont, which I once said that I would never do. It's this in-between stage that makes me anxious.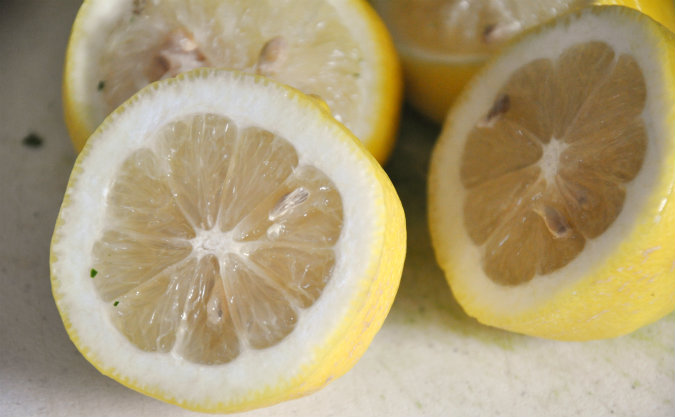 This move is also very different from the last. Last time, we were responsible for almost nothing. Our belongings were moved for us; the cars were moved for us; the dogs were moved for us. We flew out on a plane. It was as seamless as a move could be.
This time, the dogs, Matt, and I are road-tripping back. I can't wait to get on the road. I've driven this route only once before and am delighted to share it with Matt this time.
I can hear Olive panting in the next room. I'd like to think that she's as antsy to get back to California as I am.
One benefit of the lucky timing of our move is that we will be able to spend Thanksgiving with some friends. He usually deep-fries a turkey for our annual gathering; last year, she went pumpkin-dessert crazy. This year will be smaller, but certainly more memorable.
One of my contributions to the meal will be this alternative to the traditional canned cranberry sauce that graces (?) many Thanksgiving tables. It's really sour (yum) and provides a sharp contrast to the classic sweet holiday dishes. It can also be served with a soft cheese platter before dinner to whet the appetite.
As if Thanksgiving appetites need to be whetted.
Do you need an excuse to make and can preserves consistently? Want to challenge yourself by making preserves during the winter? Join our monthly preserving and canning challenge: Can It Up!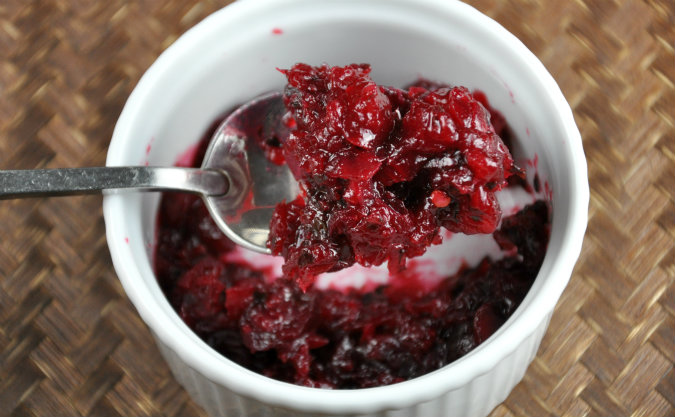 Fresh and Dried Cranberry Salsa
Ingredients
2 cup fresh or frzone cranberries, coarsely chopped
1/2 cup dried cranberries
1/2 chopped red onions
4 tablespoons chopped fresh parsley
4 tablespoons liquid honey
2 tablespoons red wine vinegar
2 tablespoons lemon juice
4 teaspoons granulated sugar
1/2 teaspoon pickling salt
1/2 teaspoon hot pepper flakes
Instructions
Combine cranberries, onion, parsley, honey, vinegar, lemon juice, sugar, salt, and pepper flakes in a medium stainless steel or enamel saucepan. Bring to a boil over medium heat, reduce heat and boil gently, uncovered, for about 10 minutes or until mixture is thickened, stirring frequently.
Process 20 minutes in half-pint jars.
http://www.allfourburners.com/2012/11/14/can-it-up-fresh-and-dried-cranberry-salsa/
Copyright © All Four Burners. All Rights Reserved.
From The Complete Book of Small-Batch Preserving
About AFB

Follow AFB

Find Recipes

Recent Posts

Archives

Bloggy Inspiration

Local Yokels