Dried Dates Stuffed with Goat Cheese and Almonds
Posted on 22 November 2012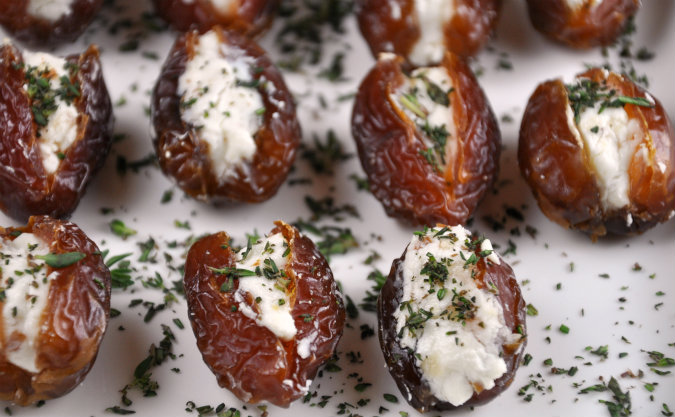 Happy Turkey Day from sunny California!
Though Denver was often sunny too.
This year, I am most thankful that we were able to move back early to the Bay Area. And that we are lucky enough to enjoy dinner today with 2 close friends and their son.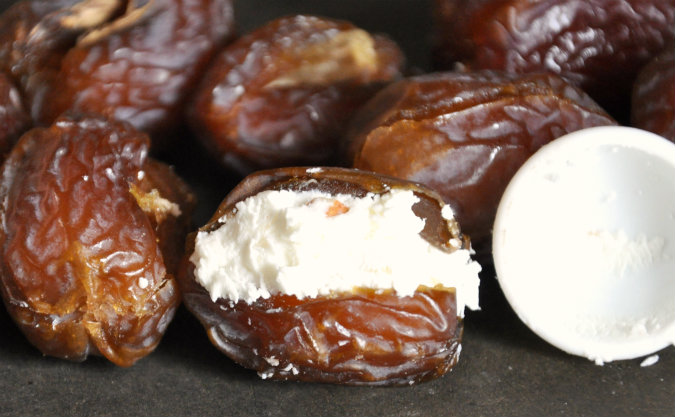 I'll admit that I am a little disappointed that we weren't able to host Thanksgiving this year. But, if you saw the current condition of our house, you would understand. We're still up to our necks (ok, not really…more like our waists) in boxes. The kitchen is barely functional. I cleared one square foot of counter space to assemble my contribution to today's meal, pumpkin pie. I'm not sure how Matt is going to pull off his sausage and mushroom dressing.
It's amazing how well the dogs have adjusted to moving back to our old house. The transition has perhaps been more seamless for them than for Matt or I. They are currently snoring the morning away in their old corner. Duncan, allegedly the shy one, was a champ throughout the road trip back. Olive is still figuring out our new routines, but seems happy enough to lose the snow in order to gain the California sunshine.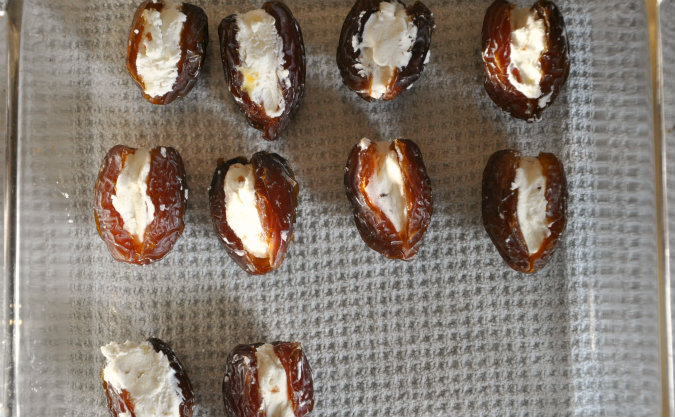 I'm a-tingle that we have functioning internet — it's blazing fast — so that I can post this appetizer. Sure, it's a little late for Thanksgiving, but its cheesy goodness is appropriate for holiday and New Year's parties. It's a cinch to put together and is perfect with champagne or sparkling wine.
I've already come up with a few new riffs on this simple formula. Next time, bacon will definitely have to be involved.
Because bacon makes everything — even returning home — better.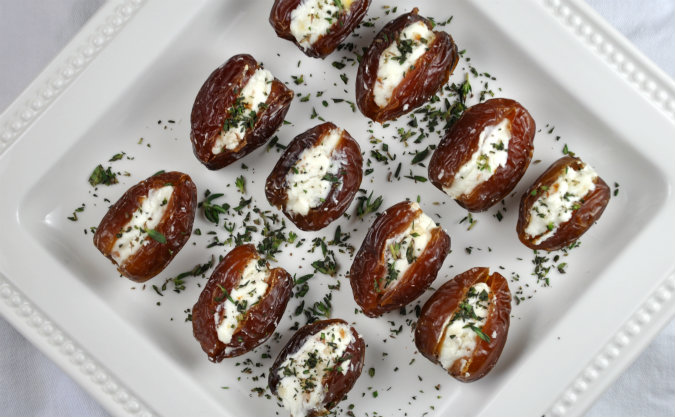 Dried Dates Stuffed with Goat Cheese and Almonds
Ingredients
24 large dates, preferably Medjool
1/4 lb. soft fresh goat cheese
4 Tablespoons chopped unsalted almonds
1 Tablespoon fresh thyme, chopped
Instructions
Preheat oven to 375 degrees. Lightly oil a baking dish just large enough to hold the dates in a single layer.
Stir together the goat cheese and almonds. Set aside.
Using a small knife, make a small lengthwise incision in each date. Carefully remove the pits. Stuff 1 teaspoon of the goat cheese mixture into the cavity left by each date's pit. Arrange the dates, with the goat cheese mixture side facing up, in the prepared dish. (The dates can be prepared up to this point up to 24 hours in advance. Store, tightly covered, in the refrigerator.)
Bake until warmed through, 10 to 12 minutes. Transfer to a serving platter and sprinkle evenly with thyme. Serve warm.
http://www.allfourburners.com/2012/11/22/dried-dates-stuffed-with-goat-cheese-and-almonds/
Copyright © All Four Burners. All Rights Reserved.
Adapted from Williams-Sonoma
About AFB

Follow AFB

Find Recipes

Recent Posts

Archives

Bloggy Inspiration

Local Yokels