Garlicky Roasted Tomato Soup
Posted on 03 January 2013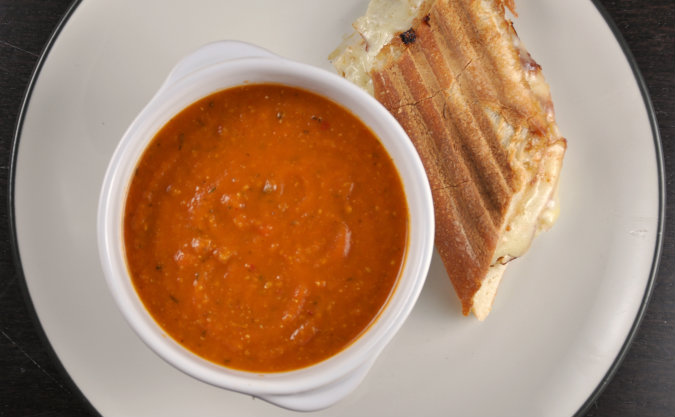 Welcome to 2013, y'all!
And welcome to January, soup month! All soup, all the time. Also, I like soup, especially as the weather turns colder. By colder, I mean, of course, that the daily highs are in the 50's, but dip to the chilly upper 30's at night. It's now so frigid in the mornings that I can no longer wear shorts when I take the dogs outside. It's a wonder that I haven't frozen to death yet.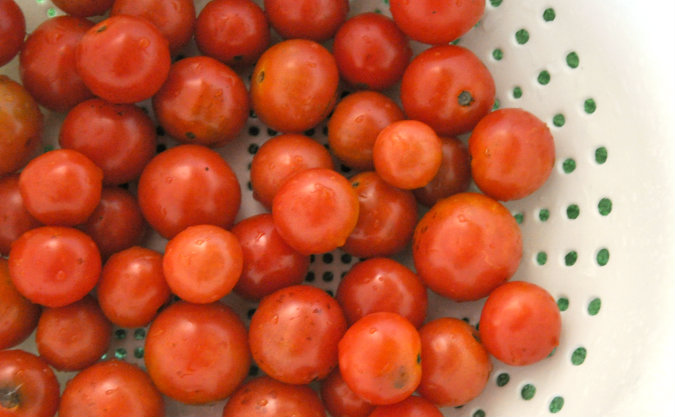 Also, it's resolution time. In 2012, my only resolution was to read 30 books. I exceeded the goal by 2. Yay for me!
Meanwhile, Matt lost 95 pounds because he's that awesome (and focused). Triple super duper yay for Matt! And some more exclamation marks!!!!
My single resolution for 2013 is to continue going to the gym regularly. It's a terrific habit that I came back from Denver with (though I fell down a bit over the holidays). I am one of those weirdos who actually loves going to the gym. I cannot get enough of that elliptical. And being strong and kicking ass. And flexing later in the privacy of my own home.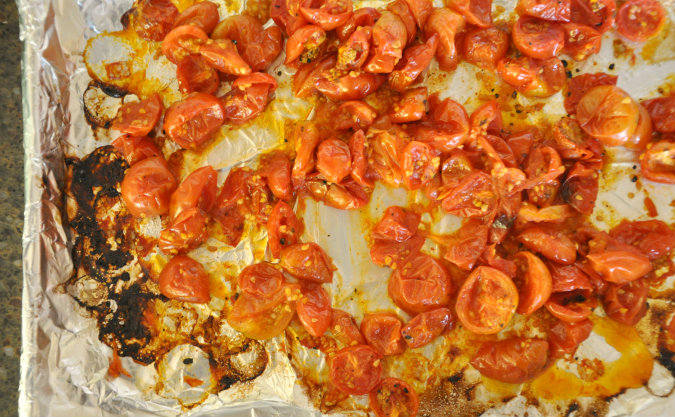 Another outstanding habit that we developed — or, more accurately, returned to — in Denver was cooking at home frequently. Since returning to the Bay Area, I've been on the hunt for easy weeknight recipes and those that can be made in large quantities and frozen for later consumption.
This recipe falls in the latter bucket. It's easily doubled (or tripled) so that you can freeze the remainder. Roasting the tomatoes requires an hour, but it's largely hands-off so you can go about your business (or, as in my case, checking Facebook, Pinterest, and Twitter obsessively). Roasting also means that you can put together this soup in the dead of winter since mealy supermarket tomatoes become lovely, caramelized, and innately sweet. Whether you decide to use fresh or dried herbs is up to you; I've used only dried thus far and have had quite good results.
Paired with some panini, you've got an easy weeknight meal.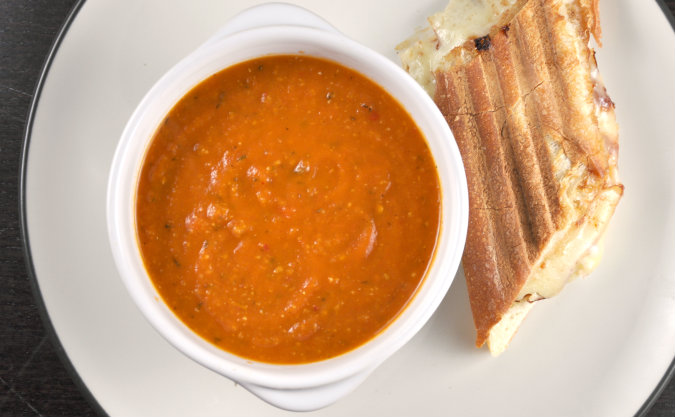 Garlicky Roasted Tomato Soup
Ingredients
3 pounds cherry tomatoes, halved
5 tablespoons extra-virgin olive oil
5 garlic cloves, minced
1 1/4 teaspoons dried rosemary
1 1/4 teaspoons herbes de Provence
1/2 teaspoon dried crushed red pepper
6 cups low-sodium chicken broth
Instructions
Preheat oven to 400 degrees.
In a bowl, combine cherry tomatoes and 2 tablespoons olive oil. Sprinkle mixture with salt and black pepper.
Place tomato mixture on a large baking sheet. Roast until tomatoes are brown and tender, about 1 hour, stirring occasionally.
Heat 3 tablespoons oil in a large pot over medium-high heat. Add garlic and saute until fragrant, about 2 minutes. Stir in tomatoes and 2 cups chicken broth. Remove from heat and puree using an immersion blender.
Return to heat and add remaining chicken broth. Stir in rosemary, herbes de Provence, and red pepper and bring to a boil. Reduce heat and simmer uncovered until soup reaches desired consistency, about 35 minutes.
Season to taste with salt and black pepper.
http://www.allfourburners.com/2013/01/03/garlicky-roasted-tomato-soup/
Copyright © All Four Burners. All Rights Reserved.
Adapted from Bon Appetit
About AFB

Follow AFB

Find Recipes

Recent Posts

Archives

Bloggy Inspiration

Local Yokels