Creamy Two-Bean Soup with Spinach, Rosemary, and Thyme
Posted on 24 January 2013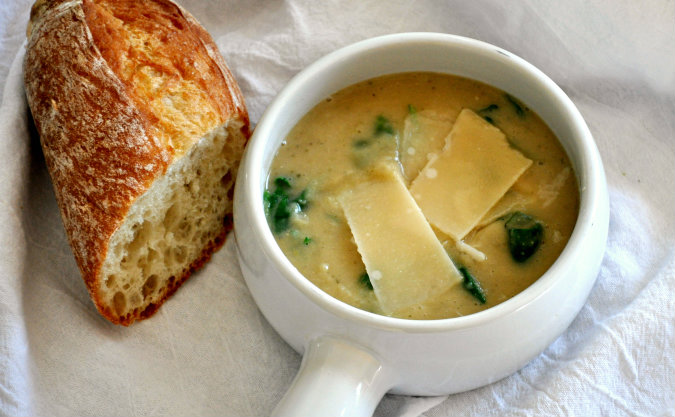 They allege that procrastination and perfectionism are positively correlated.
They certainly are in my case. Which is why I have been sitting on this post for well over a week. That and the fact that I am sick…yet again.
It started with a case of the sniffles on Sunday. Then, coupled with a terrible night of very little sleep and dehydration, it may have progressed (yet again) into a sinus infection. I'm in deep, deep denial.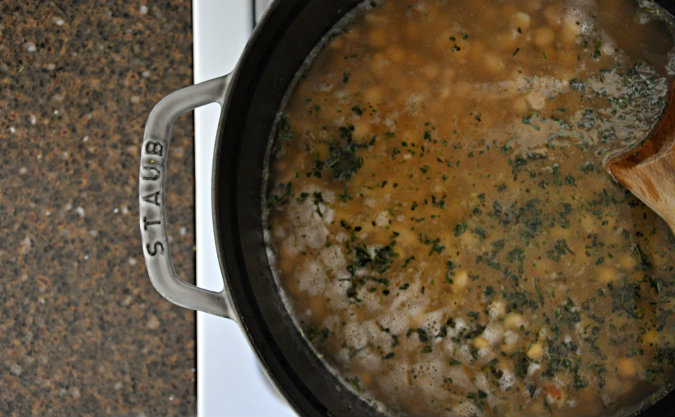 Oh, wouldn't it have been lovely if I had made this soup this week? Then I could have survived on it all week, rather than being forced to survive on leftovers and takeout. I suppose it doesn't matter since I didn't have much of an appetite anyway.
This soup tastes devilishly fattening due to the mad thickening power of pureed beans. Plus, it was an excuse to break out the immersion blender, (arguably) my favorite appliance ever. It is a crack choice for a weeknight meal since it took me — start to finish — about an hour. That timeframe includes an awful lot of chopping. If you have the choice, don't skimp on the fresh herbs since they are the second-best part of the dish.
Easy and peasy.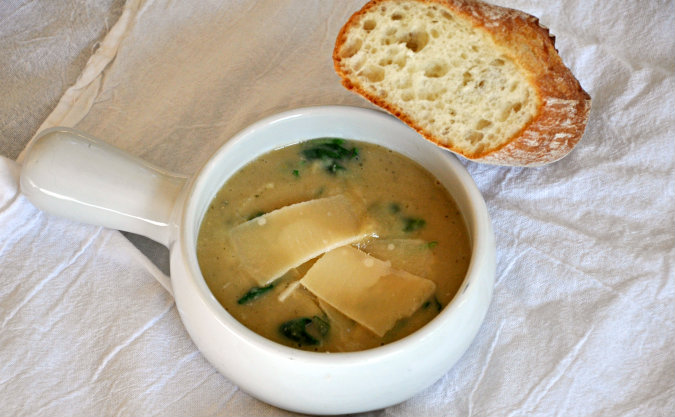 Creamy Two-Bean Soup with Spinach, Rosemary, and Thyme
Ingredients
2 tablespoons olive oil
3 cups chopped shallots
6 garlic cloves, minced
1/2 tablespoon chopped fresh rosemary
1/2 tablespoon chopped fresh thyme
5 cups low-salt chicken broth
2 15- to 16-ounce cans white beans, drained and rinsed
2 15- to 16-ounce cans garbanzo beans (chickpeas), drained and rinsed
1 6-ounce package baby spinach leaves
Salt and pepper to taste
Instructions
Heat olive oil in large pot over medium heat. Add onions and garlic and sauté until onions are golden, about 10 minutes. Add rosemary and thyme; stir 1 minute. Add broth and beans. Bring soup to boil; reduce to medium-low and simmer until flavors blend, about 10 minutes.
Using an immersion blender, puree soup until smooth. Stir in spinach until it wilts, about 1 minute. Season soup to taste with salt and pepper.
http://www.allfourburners.com/2013/01/24/creamy-two-bean-soup-with-spinach-rosemary-and-thyme/
Copyright © All Four Burners. All Rights Reserved.
Adapted from Bon Appetit
About AFB

Follow AFB

Find Recipes

Recent Posts

Archives

Bloggy Inspiration

Local Yokels