Strawberry Dried Fig Chutney
Posted on 31 March 2014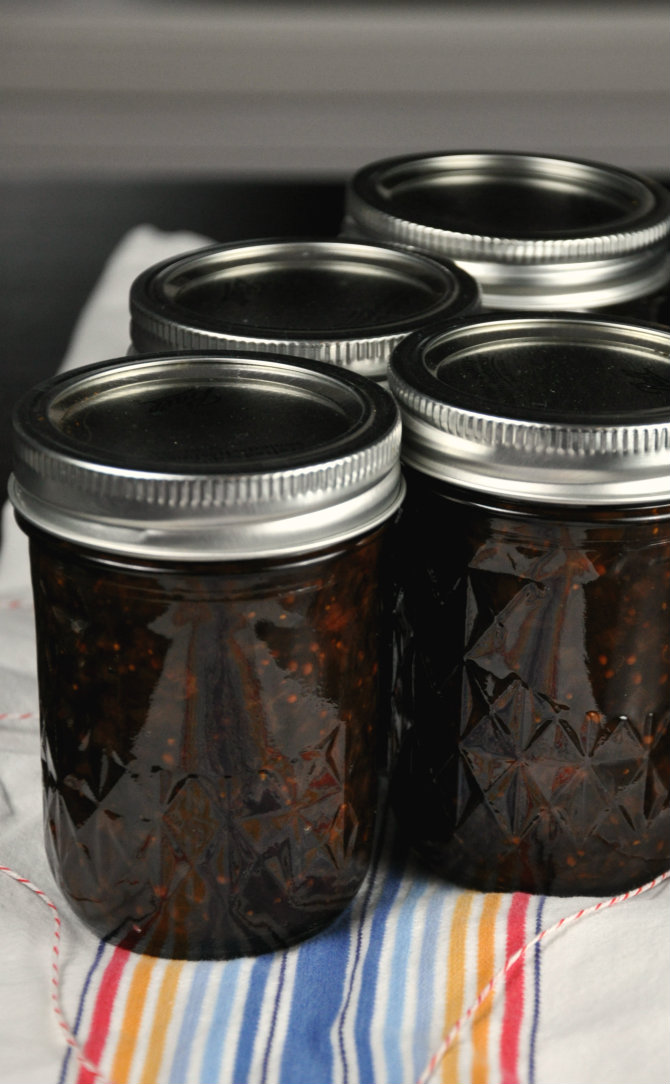 When did I become such a slacker?
Wait, don't answer that. I fear your answer.
To be honest, I'm not a slacker. I made 3 batches of strawberry preserves (1 chutney; 2 jams) for this month's Can It Up with dried fruit. But only 1 is making it to the blog.
Slacker? Or procrastinator? You be the judge.

In any case, this chutney is nearly ready to eat. After mellowing out for three weeks, perhaps its sweet spicy tanginess needs to be broken out on a cheese board for guests this weekend. Or slathered on a turkey toasted sandwich?
Or maybe both. There are 4 jars after all. Strawberry season is just starting so I can always make more (and hoard them all for myself).
What's your favorite way to serve chutney?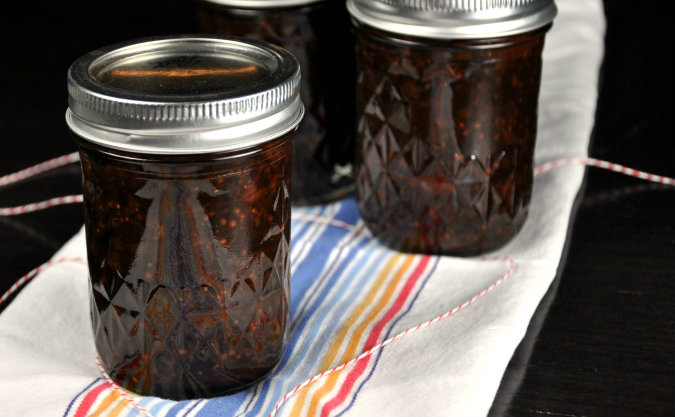 Ingredients
3/4 cup dried figs
1/2 cup balsamic vinegar
1 1/2 pounds strawberries, stemmed, hulled, and roughly chopped
2 medium onions, minced
1 cup light brown sugar
1/2 teaspoon crushed red pepper
2 teaspoons yellow mustard seeds
1/4 teaspoon ground allspice
1/8 teaspoon ground cloves
1 teaspoon salt
1/2 teaspoon freshly ground black pepper
3/4 cup apple cider vinegar
3/4 cup malt vinegar
1 cinnamon stick
Instructions
Soak dried figs in balsamic vinegar for at least 30 minutes. Remove and chop roughly.
Combine strawberries, figs, and remaining ingredients (including balsamic vinegar) in a large stainless pan.
Bring to a boil over high heat. Turn down the heat and simmer gently for approximately an hour, stirring occasionally, until mixture is thick enough to mound on a spoon.
Process in a boiling-water bath for 10 minutes.
http://www.allfourburners.com/2014/03/31/strawberry-dried-fig-chutney/
Copyright © All Four Burners. All Rights Reserved.
Loosely adapted from Serious Eats
About AFB

Follow AFB

Find Recipes

Recent Posts

Archives

Bloggy Inspiration

Local Yokels