Slow Cooker Spiced Maple Pumpkin Butter
Posted on 27 October 2013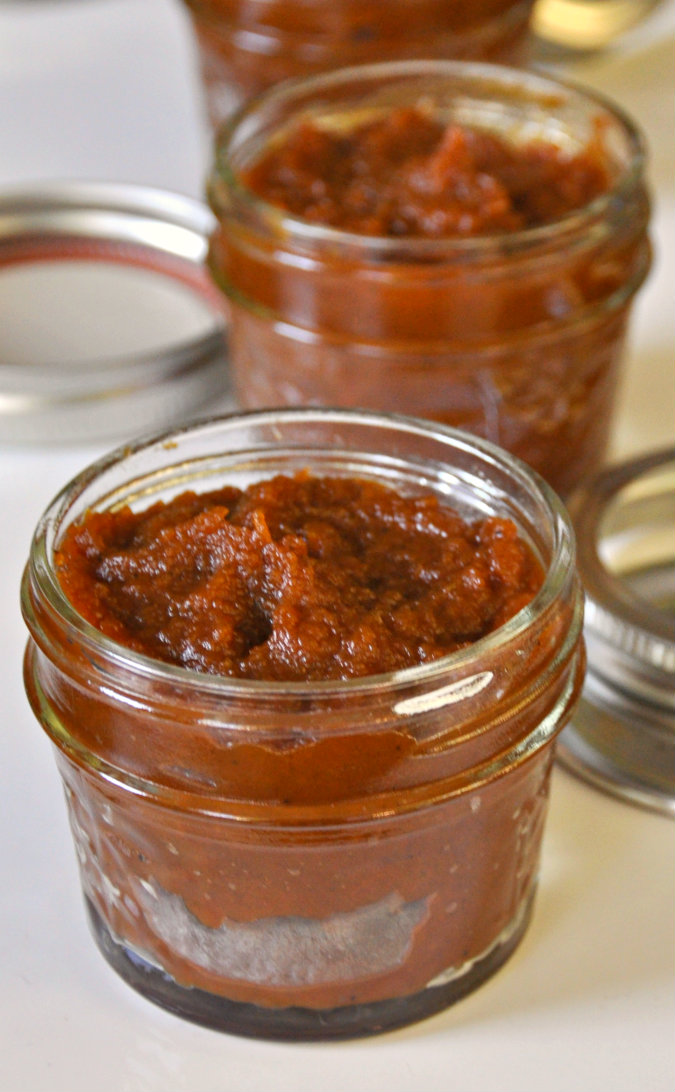 Like Linus, I believe in the Great Pumpkin.
Although it is my favorite Charlie Brown special, it's possible that I misunderstood Linus. He and I may not have meant the same thing by "Great Pumpkin."
By "Great Pumpkin," I am referring to the glorious orange orb that graces us every autumn (everyone's favorite season) with its fleshy squashy goodness. And that backs up traffic from here to Half Moon Bay every October weekend.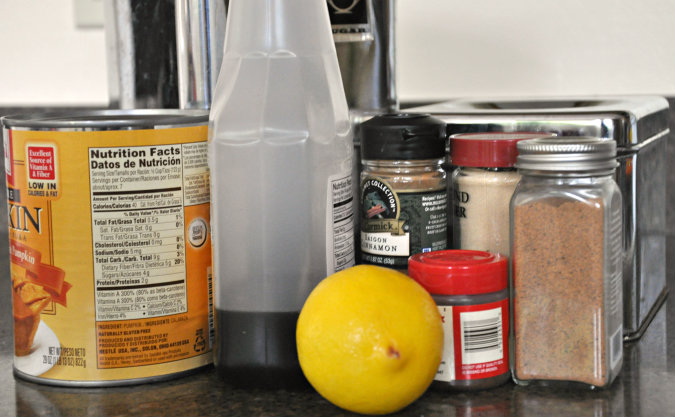 I've already made a savory pumpkin sauce for pasta. Next up, pumpkin dog biscuits.
But, first, this not-to-sweet (which feels like a trend around here lately) pumpkin butter, enhanced with a touch of maple (also autumn) and spice (autumn again). Throw everything in the slow cooker, stir occasionally, and jar — suddenly, you have a fun little treat that is on theme for any October (or November) gathering.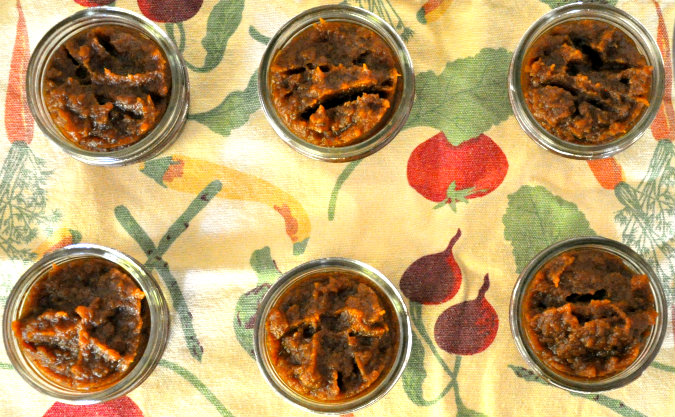 In fact, I brought the latest batch to a friend's pumpkin-decorating party. The other guests were touched that I made them a favor to bring home. Meanwhile, knowing how easy the recipe was — using canned pumpkin, for chrissakes — I felt vaguely guilty. But apparently not guilty enough not to accept the mad props the party host gave me.
This recipe can be easily doubled or maybe tripled, but cooking time will increase correspondingly. But (and this is a BIG one) it cannot be water-bath canned since the resulting butter is too thick for heat to penetrate and kill all the buggers which endeavor to kill us. Some folks online said that they keep (unrefrigerated) pumpkin butter around for 6 months, but that seems scary. I say refrigerated six weeks, tops.
What is your favorite pumpkin recipe?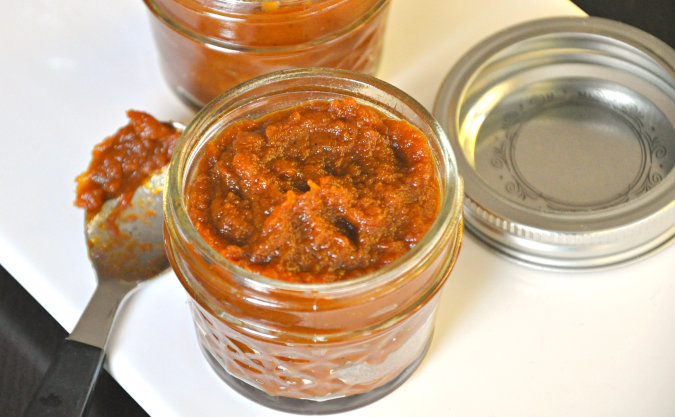 Last year: Slow Cooker Pumpkin Bread with Walnuts (huh, pumpkin again!)
Slow Cooker Spiced Maple Pumpkin Butter
Ingredients
1 29-ounce can pumpkin puree
1 1/4 cups light brown sugar
1/4 cup white granulated sugar
6 tablespoons maple syrup
Juice of 1 lemon
1 tablespoon apple cider vinegar
1 teaspoon cinnamon
1/4 teaspoon ground nutmeg
1/4 teaspoon ground ginger
1/4 teaspoon ground cloves
1/2 teaspoon salt
Instructions
Mix all the ingredients in a medium 3 1/2-quart slow cooker. Stir well. Cover and cook on high for 2 hours, stirring occasionally.
Remove the lid and cook on high for 30 minutes to 1 hour more to reach desired thickness.
Turn off the cooker and let the pumpkin butter cool to room temperature. Store in the refrigerator for 6 weeks or freeze for up to 3 months.
http://www.allfourburners.com/2013/10/27/slow-cooker-spiced-maple-pumpkin-butter/
Copyright © All Four Burners. All Rights Reserved.
Adapted from Not Your Mother's Slow Cooker Cookbook
About AFB

Follow AFB

Find Recipes

Recent Posts

Archives

Bloggy Inspiration

Local Yokels