Maple-Glazed Spicy Herbed Cashews
Posted on 04 November 2013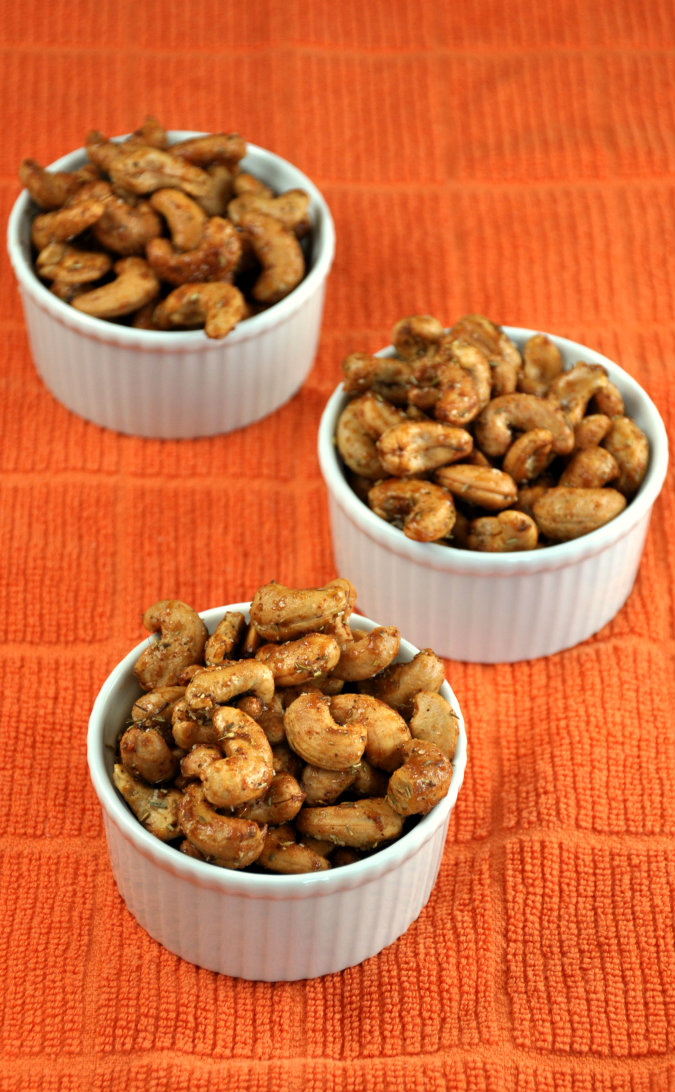 I apparently love theme months.
November is appetizer month. All appetizers, all the time! Appetizers are pretty much my favorite recipe category (to eat, not make) and there are a ton of upcoming holiday events which require a few nibbles, either in a starring role or as a precursor to the main event.


I prefer to keep appetizers before holiday meals super simple. 1. You don't want to spoil your guests' appetites before the big meal even commences! and b. There's just not enough time to make fancy appetizers while you're sweating over a large roast, bird, or other stellar main dish.
That's why I love cocktail nuts. Your guests can nosh on them with, gee, cocktails (or other drinks). They do require some oven time, but can be made ahead. Also, if you don't eat them by the fistful (which I clearly *never* do), you can make the argument that they're healthy.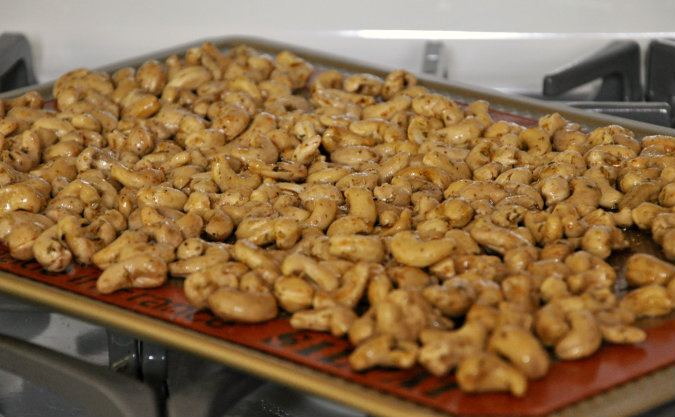 This recipe is unusual in that a small amount of maple syrup is used to adhere the herbs and spices to the nuts. It leaves a pleasantly sweet sticky coating that balances the herbiness of the rosemary and thyme. The mix of peppers adds a mild, but agreeable kick.
What is your favorite simple appetizer?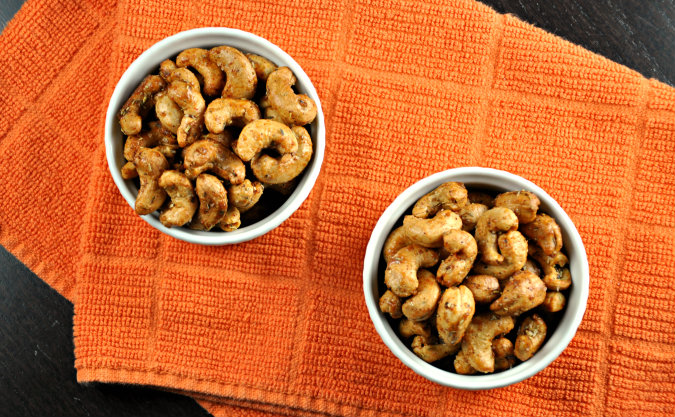 Last year: Slow Cooker Turkey Pumpkin Chili Mexicana
Maple-Glazed Spicy Herbed Cashews
Ingredients
4 cups raw cashews
3 tablespoons maple syrup
1 tablespoon extra virgin olive oil
1 teaspoon dried crushed rosemary
1/2 teaspoon dried crushed thyme
1/4 teaspoon ground chipotle powder (or chili powder)
1/4 teaspoon ground cayenne pepper
1/8 teaspoon freshly ground black pepper
1 1/2 teaspoons kosher salt
Instructions
Preheat oven to 325 degrees.
In a bowl, mix cashews with maple syrup and olive oil. Spread evenly on a baking sheet lined with parchment paper or Silpat.
Bake for 25-35 minutes, stirring every 5 minutes, until evenly toasted. Keep a close eye on them since nuts burn easily.
Meanwhile, mix herbs, dried peppers, and salt in a bowl, lightly crushing the dried herbs.
Once toasted, remove nuts from the oven and mix with herb mixture.
Cool, turning nuts every few minutes so that they don't stick together.
http://www.allfourburners.com/2013/11/04/maple-glazed-spicy-herbed-cashews/
Copyright © All Four Burners. All Rights Reserved.
Adapted from the San Francisco Chronicle
About AFB

Follow AFB

Find Recipes

Recent Posts

Archives

Bloggy Inspiration

Local Yokels