Healthy Dark Chocolate Cranberry Oatmeal Cookies
Posted on 29 January 2014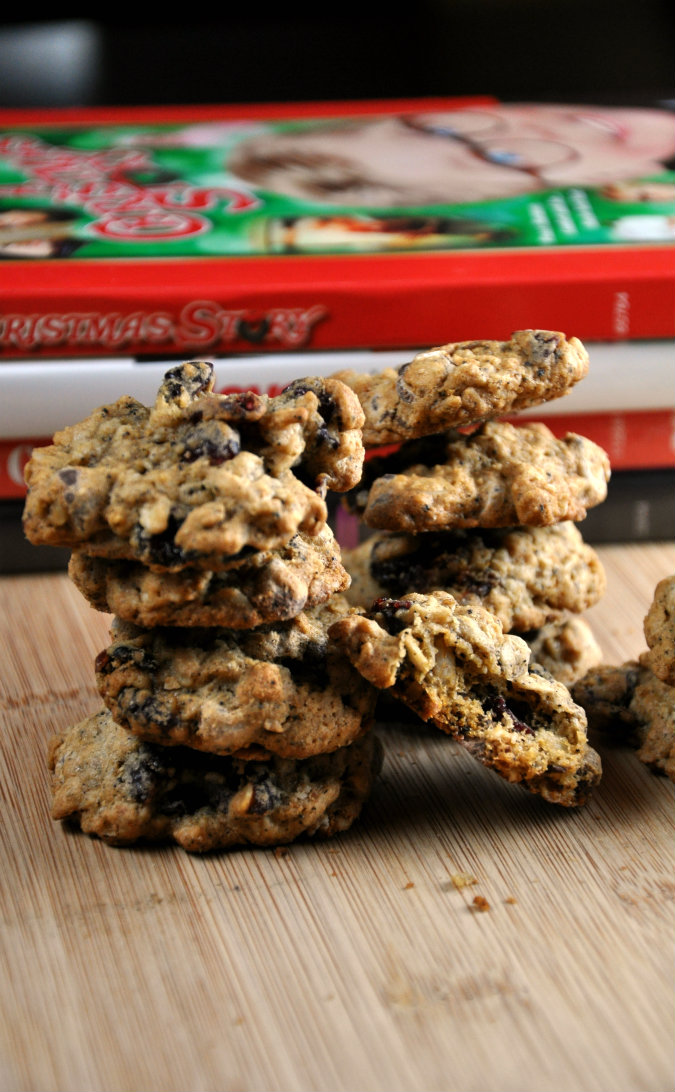 Healthy cookies. That's not an oxymoron.
Well, these may be as healthy as cookies can get. And they were quite the hit at the office potluck last month.

As you can tell from the photos, these cookies were actually intended to be published in December for Christmas, but, alas, that never happened. But that just means that you can make them in January — and justify them as part of your New Year's resolutions to eat less sugar/be healthier/be a superperson. Right?
Sounds good to me!
Other than being allegedly healthier, these cookies stand out as being a prime combination of what's marvelous about Christmas cookies: bitter dark chocolate, tart seasonally appropriate dried fruit, brown sugar for depth of flavor, and a dash of texture-y oatmeal. They'll be a fun addition to a holiday cookie swap…or just a healthy January treat!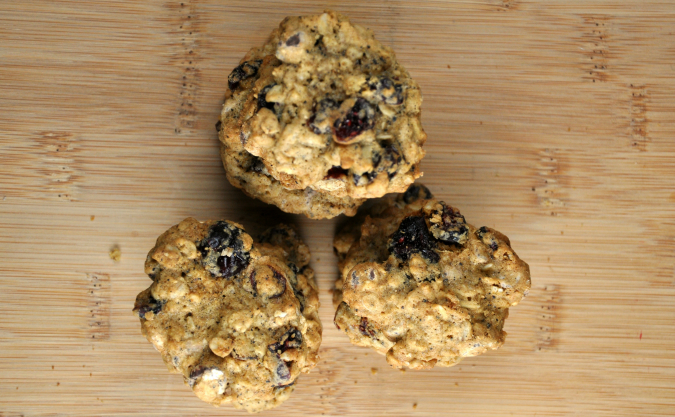 Last year: Creamy Two-Bean Soup with Spinach, Rosemary, and Thyme
Healthy Dark Chocolate Cranberry Oatmeal Cookies
Ingredients
1.5 ounces all-purpose flour (about 1/3 cup)
1.5 ounces whole wheat flour (about 1/3 cup)
1 1/2 cups old-fashioned rolled oats
1 teaspoon baking soda
1/2 teaspoon salt
2 teaspoons ground vanilla (or vanilla extract)
6 tablespoons unsalted butter, melted
3/4 cup packed light brown sugar
1 large egg, lightly beaten
1 cup dried unsweetened cranberries
4 ounces extra dark chocolate chips
Instructions
Preheat oven to 350 degrees.
Combine flours, oats, baking soda, salt, and vanilla in a medium bowl.
In a separate bowl, mix butter and sugar in a large bowl (or mixer bowl) until smooth.
Slowly add dry ingredients into the butter mixture, beating until well-blended.
Add the egg and mix until incorporated.
Remove from mixer. Add cranberries and chocolate chips and stir by hand until combined.
Drop dough by tablespoonfuls 2 inches apart onto baking sheets lined with silpats or parchment paper.
Bake for 12 minutes, rotating the sheets midway through the baking process.
Cool on wire racks.
http://www.allfourburners.com/2014/01/29/healthy-dark-chocolate-cranberry-oatmeal-cookies/
Copyright © All Four Burners. All Rights Reserved.
Adapted from Cooking Light
About AFB

Follow AFB

Find Recipes

Recent Posts

Archives

Bloggy Inspiration

Local Yokels