Slow Cooker Triple Chocolate Brownies
Posted on 04 October 2012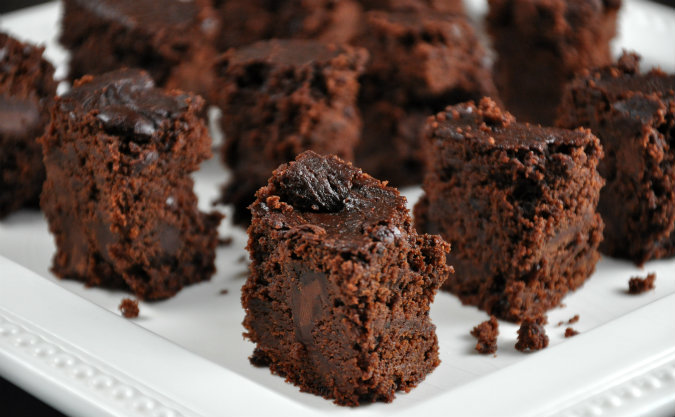 October is slow cooker month on All Four Burners. All slow cooker, all the time!
Since I don't want to bore you with solely stews, soups, and chilis, slow cooker month calls for creativity. Daring, some may say.
Hence, the selection of slow cooker brownies. With three types of chocolate.
Despite my distaste for chocolate.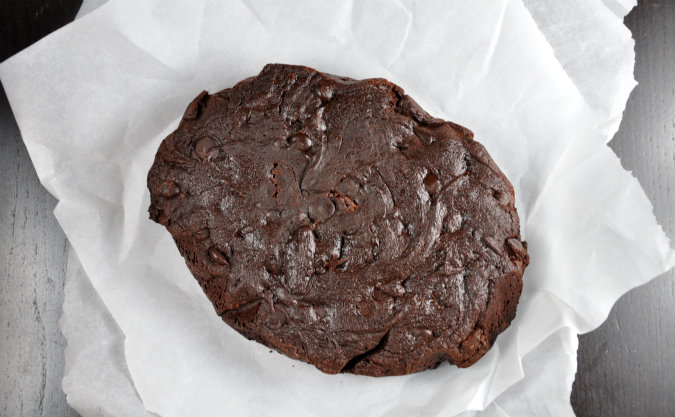 What, you say! How is it possible that someone (somewhat) reasonable and (sort of) rational not adore chocolate?
Give me some credit. I no longer actively dislike chocolate. Now that there is an available abundance of artisanal chocolates — ok, and some that I special-order — I am able to pick and choose which chocolate I allow to pass my lips.
Or I have become less picky. Though I strongly doubt that.
Regardless of my personal idiosyncrasies, brownies are always a solid choice. They are simple to whip up and, when made with high-quality chocolate, (nearly) everyone likes them. Making them in the slow cooker means that these can be baked while the oven is otherwise occupado.
I wasn't entirely convinced that brownies made in a slow cooker could taste as good as standard ones.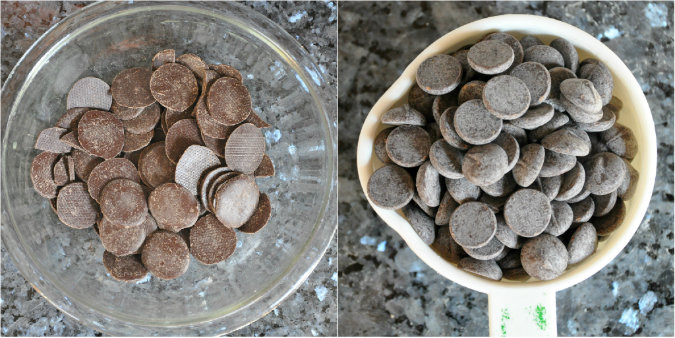 Well, they didn't. They were a bit more cakey than I prefer. I blame the bit of baking powder. Next time, I will try the recipe without and with less flour to yield a more fudgy texture. Plus, they were drier; in this case, I blame Denver's climate.
I ended up using two types of Bay Area chocolates in this brownie batch: TCHO (only a few blocks from where I used to work in San Francisco) and Ghirardelli (x2). I substituted bittersweet chocolate chips for semi-sweet. It's what I had and, besides, there is already plenty of sugar  in the recipe.
Also, the original recipe did not contain a stitch of vanilla. This had to be an oversight. Brownies require vanilla…to survive! While I trust Martha's people, they need some serious fact-checking help over there.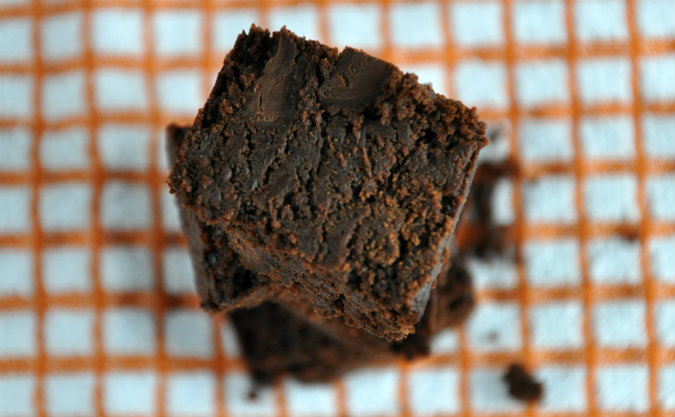 Slow Cooker Triple Chocolate Brownies
Ingredients
Nonstick cooking spray
1 1/4 cups all-purpose flour (spooned and leveled)
1/4 cup unsweetened cocoa powder
3/4 teaspoon baking powder
2 teaspoons ground vanilla (or vanilla extract)
1/2 teaspoon coarse salt
1/2 cup (1 stick) unsalted butter, cut into pieces
8 ounces bittersweet chocolate, chopped
1 cup sugar
3 large eggs, lightly beaten
1 cup bittersweet chocolate chips (6 ounces)
Instructions
Lightly coat a 5-quart slow-cooker insert with cooking spray. Line bottom with parchment paper and lightly coat with spray. In a small bowl, whisk together flour, cocoa, baking powder, vanilla, and salt.
Place butter and chocolate in a medium microwave-safe bowl and microwave in 30-second increments, stirring after each, until chocolate is melted. Add sugar; stir to combine. Stir in eggs. Add flour mixture and chocolate chips and stir just until moistened (do not overmix). Transfer to slow cooker and smooth top.
Cover and cook on low, 3 1/2 hours. Uncover and cook 30 minutes. Remove insert from slow cooker and run a knife around edge to loosen brownies. Let cool completely in insert on a wire rack, about 2 hours. Turn out onto a work surface and cut into 24 pieces.
http://www.allfourburners.com/2012/10/04/slow-cooker-triple-chocolate-brownies/
Copyright © All Four Burners. All Rights Reserved.
Adapted from Everyday Food
About AFB

Follow AFB

Find Recipes

Recent Posts

Archives

Bloggy Inspiration

Local Yokels