Can It Up: Hot Pepper Harissa Sauce
Posted on 26 September 2013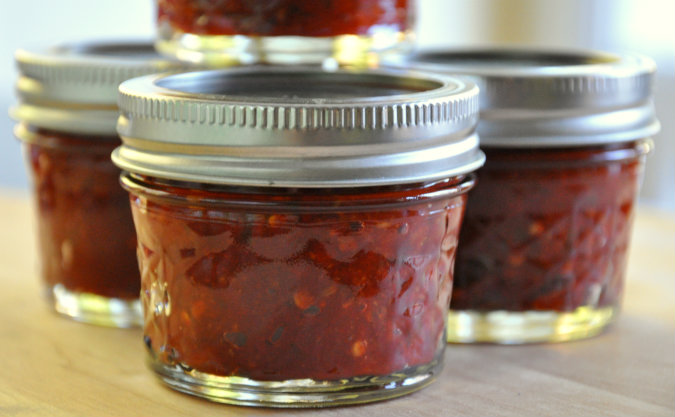 My life is tomatoes.
At least it feels like it right now. I got a screaming deal on a 20-pound box — $20 for dry-farmed Early Girls that were allegedly seconds, but were as good as firsts! I wonder how amazing this vendor's tomatoes must be in general.
Matt once scored an equally stellar deal on 180 pounds of tomatoes. The ensuing sweaty stinky chaos put me off tomatoes for 4 years. That's why this is my first year of canning crushed tomatoes for future consumption. Not sure how well they turned out since, alas, every jar has separated, but we will find out this winter in the resulting soups, stews, chilis, and sauces.
Sharing how I canned crushed tomatoes, however, isn't going to win me any friends for this month's Can It Up.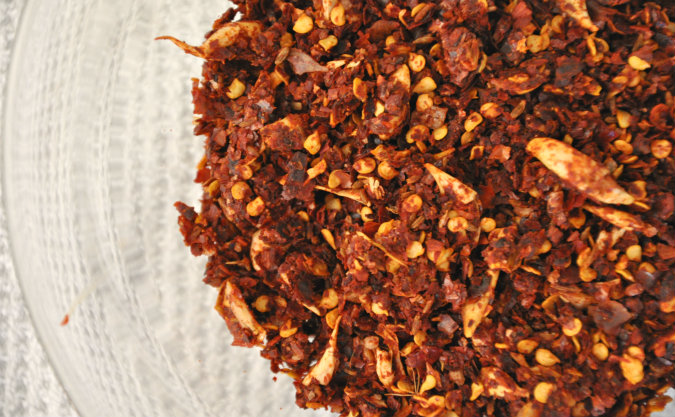 But I guarantee that this harissa sauce will. It's debatable whether tomatoes are the shining star of this preserve, despite being the dominant ingredient. The 4 ounces of fresh crushed dried red pepper (that I carried in my hand luggage back from India after my father almost abandoned it due to lack of luggage space) really are the standout flavor. Prior to opening the bag, I hadn't noticed that the pepper mix also included dried garlic cloves, which I suspect boosted the sauce's pungency.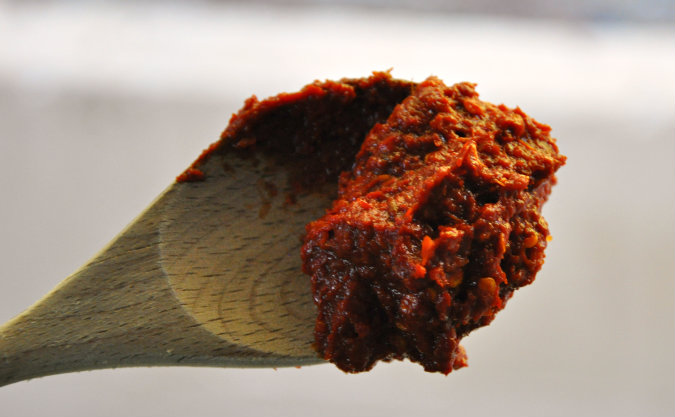 I fear that any future batches of this recipe won't match this one's fiery bite since it will have to be made with traditional domestic peppers. The original recipe — not including my minor substitutions — is included for that reason. Luckily, I have 10 4-ounce jars to eat before I have to find out.
Unless this becomes a good excuse to go to India again.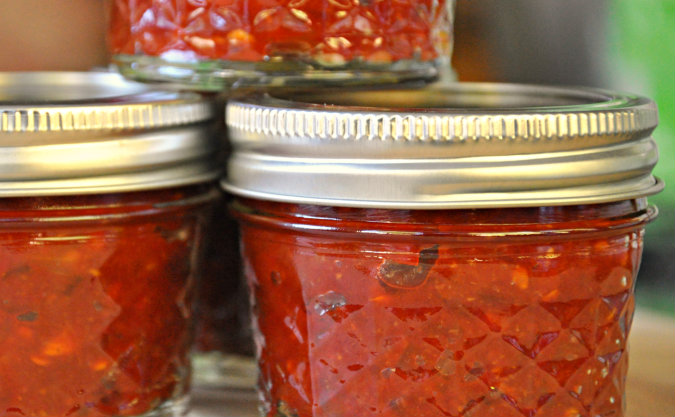 Ingredients
4 ounces dried New Mexico chili peppers, seeded and stems removed
4 cups chopped seeded cored peeled plum tomatoes
2 cups chopped onions
3/4 cup lightly packed brown sugar
1 cup cider vinegar
1/2 cup chopped seeded red bell pepper
2 1/2 teaspoons ground cumin
1 1/2 teaspoon ground coriander
4 tablespoons finely chopped garlic
1 tablespoon salt
Instructions
In a large glass or stainless steel bowl, cover chili peppers with warm water. Weigh chilies down with a bowl or weight to ensure they remain submerged, and soak until softened, at least 20 minutes. Drain, reserving water, and coarsely chop.
In a large stainless steel saucepan, combine tomatoes, onions, sugar, vinegar, red pepper, cumin, and coriander. Bring to a boil over high heat, stirring frequently. Reduce heat and boil gently, stirring frequently, until mixture is the consistency of a thin commercial ketchup, about 25 minutes.
In a blender or food processor fitted with a metal blade, combine chilies, garlic, salt, and 3 tablespoons of the reserved chili soaking water. Process until a smooth paste is formed. Add paste to tomato mixture and boil gently for 5 minutes, stirring frequently.
Ladle hot sauce into hot jars. Process for 10 minutes.
http://www.allfourburners.com/2013/09/26/can-it-up-hot-pepper-harissa-sauce/
Copyright © All Four Burners. All Rights Reserved.
From Ball Complete Book of Home Preserving
About AFB

Follow AFB

Find Recipes

Recent Posts

Archives

Bloggy Inspiration

Local Yokels