Spicy Carrot Ginger Chutney
Posted on 28 February 2014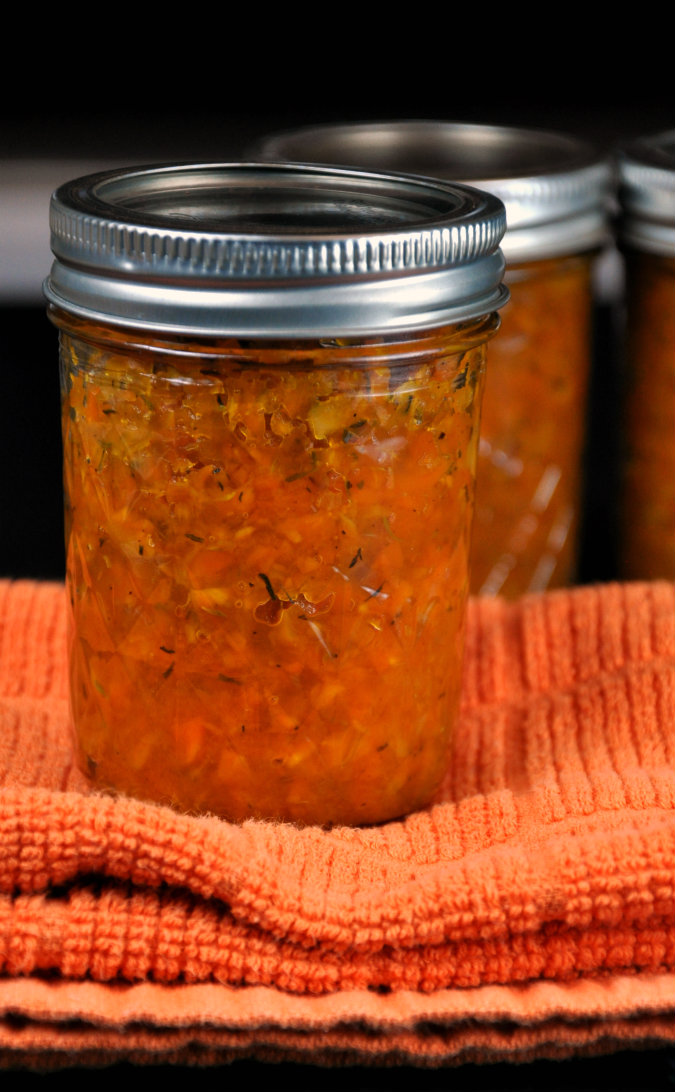 Is it a chutney? Is it a relish?
Maybe it's a bit of both.
I'm calling it chutney since it contains a generous glug of vinegar.

This recipe is modified from a number of carrot chutney recipes (thanks, Kaela!) and was vaguely inspired by carrot ginger soup (with some thyme and a touch of a cayenne kick!), always a lovely winter treat.
Of course, due to the drought, we've barely had winter. Trees are already blooming. There have been several record-breaking days of heat. Asparagus appeared in the farmers market a couple of weeks ago.
Despite the odd spring-like weather, I came down with a doozy of a cold this week. I'm only starting to recover, but that's why this post for Can It Up is so late.
I can't wait to try this chutney again in a few weeks once the flavors have melded and the vinegar has mellowed.
How are you managing this odd winter?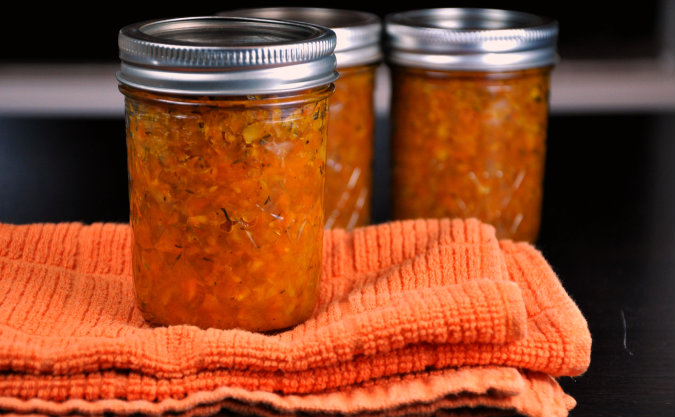 Last year: Strawberry Cardamom Compote with Lime and Pineapple Rum Jam with Lime
Spicy Carrot Ginger Chutney
Ingredients
1 1/4 pounds carrots, peeled and grated
1 cup yellow onion, minced
2 tablespoons fresh ginger, grated
1 cup apple cider vinegar
1 cup water
1 cup brown sugar
1 teaspoon dried thyme
1/2 teaspoon cayenne pepper
1 large lemon, zested and juiced
1 teaspoon salt
1/4 black pepper
Instructions
Combine carrots and the remaining ingredients in a large stainless steel pot. Bring to a boil over high heat, stirring occasionally, for 5 minutes.
Reduce heat and simmer gently for about 45 minutes, until the mixture becomes thick.
Process for 20 minutes in a boiling-water bath.
http://www.allfourburners.com/2014/02/28/spicy-carrot-ginger-chutney/
Copyright © All Four Burners. All Rights Reserved.
About AFB

Follow AFB

Find Recipes

Recent Posts

Archives

Bloggy Inspiration

Local Yokels