Spicy Quince Chutney
Posted on 22 November 2013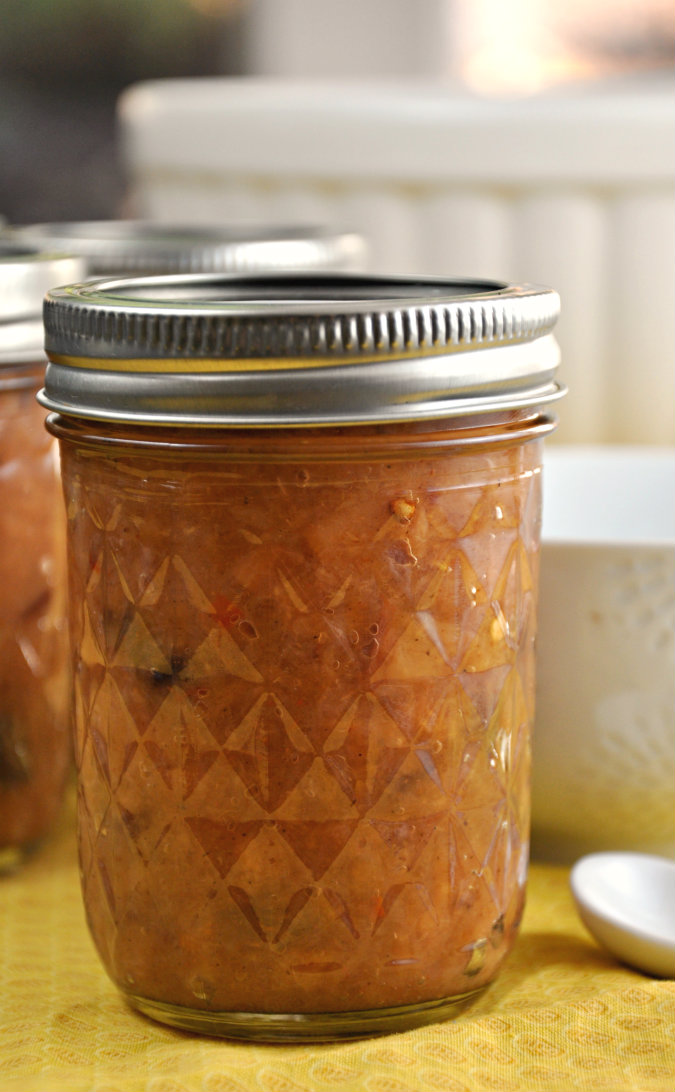 Have you started your holiday shopping yet?
Last year, I started giving preserves as holiday gifts to rave reviews. It was purely out of necessity. If you recall, I went wild preserving apricots and peaches last summer in Colorado. When I returned to California, I went on a strawberry rampage, which I kept mostly hidden from you (with the exception of a single Instagram photo).
This year, however, I have become a full-blown crazy canning lady. I'm ashamed to confess how many batches of preserves I've made (40+) and how many jars are stored in my garage (nearly 300 — and that doesn't include what we're already eaten).


Now, when people have excess from their backyard fruit trees (that's how we do in California), they contact me. Which is how I ended up with over 10 pounds of quince (or is that quinces?) from a friend's tree. While they waited to be preserved, they filled the kitchen with an indescribable fruity floral scent.
Of course — because you may as well call me the (boring) jam lady — I initially made a batch of quince jam with ginger and black pepper, inspired by a recipe from Aimee. The gorgeous coral result was well-balanced by a gingery zing and a black pepper bite.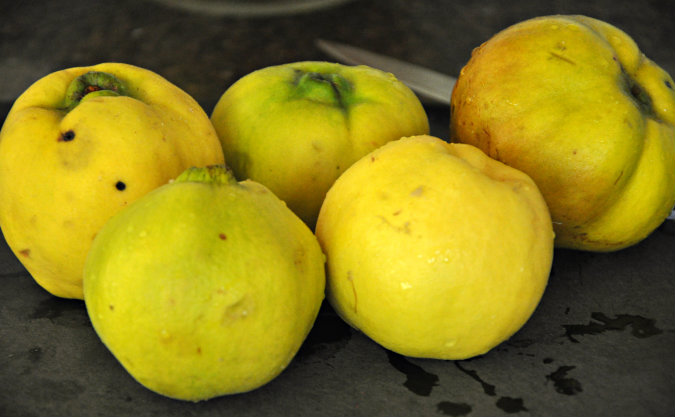 But this month's Can It Up demanded something non-jammy!
Although chutney is basically jam with vinegar with the addition of spices and raisins.
That makes it different enough to qualify as not jam for my purposes! This richly spiced tangy preserve is the ultimate condiment for your holiday table. It can be served with aged cheeses or pate as an appetizer or with any roasted meat as the main course.
Do you preserve as part of your holiday gift-giving? If so, when do you start?
Last year: Dried Dates Stuffed with Goat Cheese and Almonds
Ingredients
4 pounds quince, peeled, cored, and sliced into 1/2 chunks
1 large yellow onion, finely chopped
1/2 cup raisins
1 1/2 cups light brown sugar
1 1/2 teaspoon salt
3/4 teaspoon ground cumin
1/4 teaspoon ground coriander
1/4 teaspoon ground cardamom
1/4 teaspoon ground black pepper
1/4 teaspoon ground cinnamon
1/8 teaspoon ground cloves
1/8 teaspoon ground nutmeg
1/2 teaspoon crushed red pepper
1/2 teaspoon fennel seeds
1 cup white wine vinegar
1 cup apple cider vinegar
1/2 cup water
Juice of 1 lemon
Instructions
Combine all the ingredients in a large stainless saucepan. Stir to dissolve sugar and bring to a boil over high heat.
Reduce heat and boil gently, stirring occasionally, for 45 minutes to 1 hour until mixture is thick enough to mound on a spoon. Mash quince to desired consistency.
Ladle hot chutney into hot jars, leaving 1/2 inch of headspace. Process for 15 minutes.
Allow flavors to develop in a cool, dark place for 1 to 2 months before serving.
http://www.allfourburners.com/2013/11/22/spicy-quince-chutney/
Copyright © All Four Burners. All Rights Reserved.
Heavily adapted from Preserve It!
About AFB

Follow AFB

Find Recipes

Recent Posts

Archives

Bloggy Inspiration

Local Yokels